Your Daily Divination Journal for Wednesday, October 31
Daily Tarot Card for the Day
The Lovers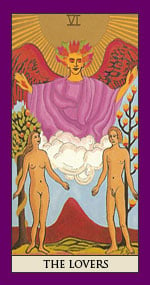 Keywords: choice, decision, love, communication, inspiration (ideas from above)!
Astrological Correspondence: Gemini
The Lovers card is representative not only of crucial life choices, but also of lovers, couples, and other partnerships, like business partners, siblings, and friends. The angel between a woman and a man, depicted on this card, symbolizes the struggle of deciding to follow one's heart versus one's temptation or obligation. The Lovers card symbolizes the choices that must be made to progress toward higher self-awareness; choices also reflect emotional values, indecisiveness, hesitation, and our fears about making wrong choices. This applies not only to love relationships – it is applicable to any relationship in which people are drawn together, even a casual one. It's the card of uncertainty!
Daily Love Tarot for the Day
The Emperor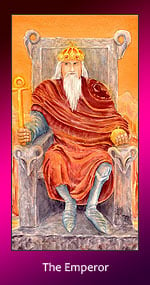 The Emperor card has selected you to let you know that you sow seeds of better things and more fulfilling times ahead. Give yourself permission to reach out for more, especially if you are dissatisfied. You create a solid foundation, built on a sense of higher purpose. If your current relationship suffers from stress, today let tender actions reveal what you may be unable to put into words. Rebuild, from the ground up.

Your Daily Erotic Tarot
The Judgment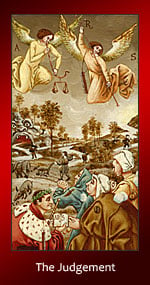 The Judgment card indicates that you've had some sexual hang-ups in the past, but you're working toward getting over them. This is a period of transition, and although you're doing the work, you may not be getting the exact results you desire. Forgive yourself for past missteps in order to take a sexual step forward today. Being afraid to express your true erotic self can even effect other areas of your life, so getting beyond your sexual inhibitions translates into a happier overall existence.
Your Daily Rune for Today
Hagalaz
"Hag-all-az" – Literally: "Hail" or "Hailstone" – Esoteric: Crisis or Radical Change
Key Concepts: hailstones, crisis and catastrophe, disruption, radical change, destructive elements of nature, severe weather, the uncontrollable, unavoidable unpleasantness, Jungian shadow, psychoanalysis, regression, acceptance of the unalterable
Psi: disruption, change, personal past

Energy: power beyond human ability to harness, perfect pattern, seed formation, objective confrontation, destructive natural forces, chaos
Mundane: bad weather, obstacles, surprises, shelter
Divinations: Change according to ideals, changes for the long-term good, controlled crisis, corrections, completion, inner harmony; or catastrophe, crisis, stagnation, loss of power, loss of property, short-term disappointment, victim-consciousness, obsession with the past, blame.
Governs:
Completeness and balance of power, integration of unconscious shadow elements
The inevitability of Fate, Wyrd, Orlog
Evolutionary progress and operations of becoming
The outworking of a perfect pattern
Protection through banishing or exorcising disharmonious patterns, protection
Awareness of the unconscious ideas for eventual processing
Causing discomfort in others by awakening their own subconscious 'garbage'
Your Daily Influences for Wednesday, October 31
Tarot Influence
Six of Coins
Material gain, charity and justice are at the forefront. That which is earned will be given.
Astrological Influence
Gemini Reversed
Gemini reversed denotes vacillation. Decisions are not made, because all side of the issue pull with the same strength.
Element Influence
Air
Air denotes freedom and the ability to transcent the mundane. You may be, or may soon experience a spiritual or secular liberation.
Your Animal Spirit for Today

Characteristics of the Coyote as a Spirit Guide
Advice from the Coyote
Crack the Cookie
The Words of Confucius
It does not matter how slowly you go as long as you do not stop.