Tarot Card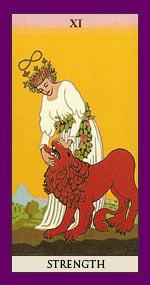 Strength – Major Arcana
Keywords: inner strength, vision, self control! Astrological Correspondence: Leo The Strength card, depicting a gracious queen-like figure and a wild lion, shows that real strength has to be combined with graciousness and gentleness to become a force. It symbolizes inner strength, determination to overcome obstacles, self-knowledge and self-discipline, as only when we know ourselves and act in a responsible manner will we be able to deal with challenging situations and overcome difficulties successfully. Yet this card not only represents physical strength; moral and emotional strength are also included in the meaning. Patience, compassion, dealing with frustration, accepting of others, and tolerating imperfection (in oneself and in others) all leads to being a complete person. The negative qualities of Strength include misuse of power, aggressiveness, and intolerance.
 Rune
Jera
Rune of harvest and reward for, or reaction to, right actions in a horizontal (naturally ordered) cyclical process. Rune of peace on the land and in the heart.
Psi: psychological time, patience, the measurement of time
Energy: good harvest, orbits, cycles, progress, biorhythms, right effort
Mundane: waiting, gardening, farming, the seasons, harvest
Divinations: Reward for positive action, plenty, peace, proper timing; or repetition, bad timing, poverty, conflict, regression.
Governs:
Fertility, creativity and harmony with the land
Peace, prosperity and plenty
Realization of the cyclical nature of the multiverse, invoking the power of time and cycles
Bringing other concepts gently into material manifestation
Initiating gradual and lasting change in flow of life
Witches Rune
The Wave
Meaning: This rune symbolizes your friends and family and their influence upon you. Its meaning is usually derived from the other stones closest to it. This rune is also associated with travel. A journey abroad is indicated especially if the Sun rune is nearby, but a journey for someone close to you if the Moon stone is closest. If it is near to the Rings it foretells a holiday or long distance relationship.
Ogham
Quert
In many religious traditions the apple is a mystical or forbidden fruit. Yet to the Celts it was the food of the Gods. Despite it's often bad reputation it is clear that the apple is a source of nutrition, health, and sustenance. That is why we read this ogham letter has having to do with life, health, and healing… a Quert a day keeps the bad vibes away!
Fortune – Take a good look at your mental and physical health. This Ogham is a warning to be mindful of nutrition and healing, take care of yourself!
I Ching
Hexagram Sixty – Two/62
Hsiao Kuo / Lying Low
Thunder high on the Mountain, active passivity:
The Superior Person is unsurpassed in his ability to remain small.
In a time for humility, he is supremely modest.
In a time of mourning, he uplifts with somber reverence.
In a time of want, he is resourcefully frugal.
When a bird flies too high, its song is lost.
Rather than push upward now, it is best to remain below.
This will bring surprising good fortune, if you keep to your course.
SITUATION ANALYSIS:
There is no profit to striving here.
To be content with oneself is the greatest success imaginable.
The enlightened person has nothing to prove to himself or others, and thus may always operate from a position of sincerity, with no pretense or posturing.
His humility is guileless simplicity.
His mourning is selfless compassion.
His frugality is an unshakeable faith that he is but a conduit, letting what is needed flow through him to others, with no loss to himself.
Numerology
Sixty – Two
This number is less sensitive. It is an excellent caretaker. A good number for people with careers in the medical field.
See also 26…
Angel Number
Sixty – Two
In numerology, the "angel number" is a "memorable number / doublet number", and it is said that the doublet number contains a message from the angel. ..
When you happen to see the same number many times and the number is very impressive, it becomes an "angel number".
What is the meaning and message of the angel number "62"?
Basic meaning of angel number "62"
The basic meaning of angel number "62" is "trust the world" and "believe that small life problems work like miracles".
Angel number "62" conveys the message that even if life does not go well or is hurt by relationships, it should not be a resentment or disbelief in "the world / human beings (people)".
Believe that the essence of people is "good" and treat them kindly, even if not all human beings seem right.
Doing so may increase your fortune and miraculously clear up minor life problems.
Explanation about the number of angel number "62"
Angel number "62" is a spiritual number that implies "increasing the level of the soul by believing in the world and people" and …
Animal Spirit Guide or Animal Spirit Helper
Male and Female Peacock
Peacock symbolism and meanings include beauty, masculine power, sisterhood, protection, vision, renewal, good luck, and other special qualities. Peacocks are native to India, Asia, and Central Africa. However, people all over the world have been dazzled by peacocks for centuries. Thus, peacocks appear in the mythology and folklore of many diverse cultures. In addition, the peacock spirit animal is an important figure for those who feel a special kinship with these magnificent birds. In this post, you'll learn about peacock symbols and meanings, the peacock spirit animal, peacock mythology and folklore, and more.
Table of Contents
What does a peacock symbolize?
Detailed Peacock Meanings and Symbols
The Peacock in Mythology and Folklore
Peacock Meaning in Christianity and the Bible
Peacocks in the Yazidi Faith: Melek Taus
The Peacock in Alchemy and Carl Jung