Tarot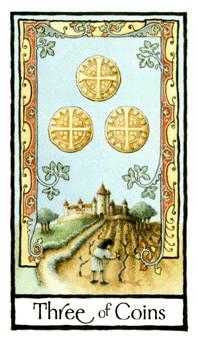 3 of Coins
This suit, most often named "Coins" or "Pentacles", is a symbol for a magical talisman that represented wealth or potential. This suit represents something supportive that is available to you — whether it be health, some kind of talent, a material or financial resource.
The Three is traditionally the card of genius. Here we usually see a master craftsman conferring with his masons on the installation of a beautiful stained-glass window in the cathedral. This designer is often likened to Leonardo da Vinci or Michelangelo, a multi-talented visionary who has no peers in talent or productivity.
The masterwork is being proudly showcased for future generations, as an object of personal and collective pride. On some cards, the genius is portrayed at his studio, alone and burning the midnight oil, in a creative ferment — driven to draw, paint, invent, or whatever work genius wants to bring into creation. As a subtext to the rewards of genius are the days and weeks of intense concentration it takes to solve the problems that great works entail.
Rune
ANSUZ VIKING RUNE
THE GOD LOKI, SIGNAL RUNE
These Norse runes give power of messaging or warning about the upcoming problem in the person's life. Additionally, it brings sacred knowledge and means that the person must be blessed. It teaches people to be patient, kind and polite while making every decision and conversation in life. Still, it implies that people must be incredibly patient and careful with the wise ones.

FEHU
Property, Food, Livestock
Fehu is the rune of fulfillment: ambition satisfied, salary received, fulfilled love. It also promises food, from the commonplace to the holy divine. This rune requires a deep exploration of the importance of profit in your life. Another aspect of Fehu is the conservation and preservation of what has already been won. Caution and vigilance are necessary, especially in happy times. Even if there is a reason for celebration,  don't be distracted by reckless bliss.

Druid Ogham

Harvest, completion, initiation
Tree: Grapevine (Vitis spp.)
Letter: M
Harvest time has deep significance and meaning for those willing to pay attention. It is both a time of celebration and fortifying oneself for the long journey ahead. Harvest in the old days was a genuinely special time, because unlike nowadays, winter forced most humans into a period of rest. With the advent of the cheap petroleum age, wintertime has become a time of bustling activity as many of us drive and shop in a frenzy to prepare for holidays, but if you think back to times when there were no lights outside of lanterns and candles when the sun set at 4pm, you can rightfully imagine it wasn't the busiest time of year! Harvests celebrate the bounty of the summer but also the coming death of a year, which is but a larger celebration of the death of a season, which is a larger celebration of the death of the week (the weekend), which is a larger celebration of the death of a day by having a meal and then going to bed. Death is called The Reaper — when we look at this meaningfully, The Reaper is not such a bad guy. He's taking care of business for us so we can rest and wake up ready and refreshed for the next life. Of course drawing this Ogham does not mean you or someone else is going to die. Instead, look for the culmination of a phase, project, or a way of being. You have reason to recognize and celebrate a job well done, a graduation, an obstacle overcome, or a subtle shift. The end of a cycle, even if it wasn't the best one, is worthy of recognition and celebration before we rest and prepare for the next cycle. Decadence is not to be feared — a little decadence after hard work is natural and should be enjoyed.
Questions when you draw Muin:…