General Tarot Card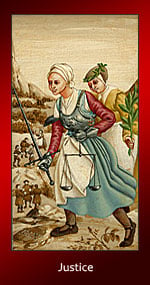 JUSTICE
There is at least one person in your life who needs to be addressed with a little bit of tough love. You have to be fair, of course, and think through the situation carefully to make sure that you understand completely. This person may be somebody you love or need, but criticism must be delivered, however blunt or insensitive you may be perceived by speaking your mind. A heartfelt letter may be in order, even if done at a distance.
Elder Futhark Rune
NAUTHIZ/NAUDHIZ
Sound: "n"
Stands for: Necessity (or Need)
Color: Black (Blue)
Casting meaning: This rune represents how our need or want of something can put a restriction on us. It restricts our possibilities but also contains the power we need to break free from those restrictions.
Animal Spirit Guide or Helper
Bobcat Symbolism, Meanings & The Bobcat Spirit Animal
Bobcat symbolism and meanings include self-reliance, perception, moxie, stealth, friskiness, beauty, and affection. Because bobcats are native to North America – ranging from southern Canada all the way to Mexico – they are subjects in the cultural mythology of these regions. In addition, the bobcat spirit animal is a figure who appears in the spiritual belief systems of many Native American tribes. In this post, you'll learn about commonly shared bobcat symbols as well as the bobcat spirit animal and totem.