Your Daily Tarot Card
Number 6 in the Major Arcana
The Lovers
Am emotional decision.
A Forest dragon stands on the bank of a lake, its neck outstretched to touch noses with a beautiful Water dragon that rises from the waters. The gaze at each other in love, unconcerned that their attraction  will prove difficult because of their very different lifestyles. For the moment, they are caught up in the power of their emotions. The Forest dragon represents the liner, analytical left brain and the conscious mind, while the Water dragon represents creativity, spiritually connected right mind and the conscious mind. To achieve success and reach goals, both halves of the brain, as well as the conscious and subconscious minds, must live and work together in harmony in order to reach a spiritual balance point. However, because of the vast differences in perceiving life and spirit, this is extremely difficult to maintain on a constant basis.  Thus, we go through life in a kind of dance, approaching, then retreating from the balance point. The heron, representing generation of life, and the butterfly, symbolizing the soul itself, reveal that we must always be aware of the soul and its need to grow, regardless of our emotional side-paths.
Divinatory Meaning
A romantic encounter may come into your life. You may be faced with an attraction or a temptation that may not be good for you. There will be an attraction of opposites that will be difficult to reconcile in the long run. A difficult choice will arise; make your decision on facts, not the emotions.
Your Ogham Reading
Coll-Hazel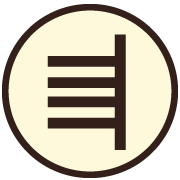 The Celts believed that hazelnuts gave inspiration and wisdom, even in many other cultures the hazel tree and it's branches and nuts are used for protection. In Celtic mythology one of the greatest leaders named Fionn Mac Cumhail magically gained wisdom after eating salmon that sustained themselves upon hazelnuts. The ogham letter coll denotes wisdom, divination, and inspiration. Drawing this letter will give you a deeper look into you questions and concerns.
Fortune – Look inward to your own wisdom to gain the answer you seek. Be creative, be perceptive, this Ogham shows you already have the answer!
Today's I Ching Hexagram:
45: Coming Together
General Meaning: The power of gathering together is represented by a rally, where each individual's strength is magnified by the power of their community. History has shown that mass movements can bring about stable, ordered and durable conditions for the better. This hexagram may be pointing to an auspicious time for large undertakings. But the guiding force of your shared vision is essential to hold the forces of unity together, and keep them advancing toward a common goals and values.
Another image for this situation is that of a lake filling with water. Just as the fullness of the lake can bring good fortune to all in its sphere, it can also overflow, leading to calamity. Thus in a time of gathering together it is essential that precautions against excesses be considered along with efforts to advance along a clearly-charted course. Much of human misfortune comes from unexpected events for which we are ill prepared; when gathered together with others, we are both more powerful and, in some ways, also more vulnerable.
Any time of unified coming together is a time of great potential. But the potential can be both positive and negative. Everything is magnified when people unite around a central shared purpose. When many people unite behind a single goal or strong vision, it is wise to take personal precautions to protect your own reasonable self-interests, because these can easily be lost in the crowd.