The Daily Tarot Card
The Pope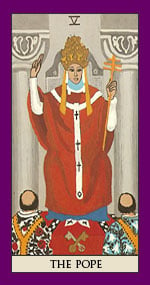 Keywords: teaching, school, blessing, ritual, marriage, acting!
Astrological Correspondence: Taurus
As a priest, the Pope, or Hierophant, represents traditional values and moral development. He is the wise teacher or counselor guiding groups or collectives on their path in search for spiritual truth or meaning. Depicted as a religious figure in ceremonial vestments he interprets secret mysteries, divine law, and theological doctrine. Although this card implies that he is linked to the church, the Pope signifies not only organized religion but also focus on groups in general, such as schools, teams, companies – any group with fixed roles and assigned responsibilities. The Pope is a symbol for rules, procedures, structure, and ritual, creating harmony within groups and staying their course so they can find identity and progress as a whole. The negative imagery symbolizes dogmatism and inflexibility, extreme conformity, or conventionalism.
The Daily Tarot Love Card
The Emperor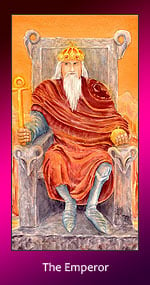 Today is perfection, in a good way. Why? Today represents someone's advancement and growth in the ability to love. Someone, perhaps even the two people you are one-half of, grasps the realization that love is friendship intensified. If you're dating and you want love, it is yours. The trick is to avoid being swept off your feet. Instead, grasp the idea of slowing down, knowing that time is on your side.
The Daily Erotic Tarot Card
The Pope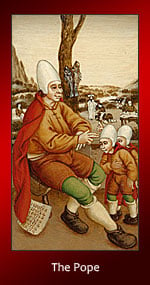 The Pope represents pure masculine energy, and even if you're female you're going to be identifying more with your male counterparts today. The Pope shows you that coming to terms with past mistakes and taking responsibility for them in the present eases sexual tension, so let go of the past to free yourself from your inhibitions. You actually have quite the skill set when it comes to making sexual moves, but waiting until the time is right before taking the plunge can be a real turn-on. Let the anticipation build until you can't take it anymore!
The Daily Past Life Tarot Card
The Sun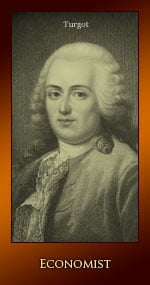 Sometimes numbers fill your head and although you do the math, the equations just keep coming. This could be a sign that in a past life you were an economist. You might not understand it exactly, but there is just something in your genes that has always attracted you to numbers. Your past life as an economist is probably still on the treadmill of reincarnation. You follow numbers through the journey of your many lives, finding solutions that create new numerical questions.
Your Daily Rune
Nauthiz
"Not-this" – Literally: "Need-fire" or "Necessity" – Esoteric: Constraint, Friction
Key Concepts: Need, resistance, constraint, conflict, drama, effort, necessity, urgency, hard work, need-fire, life lessons, creative friction, distress, force of growth, the consequence of past action, short term pain for long term gain

Psi: resistance, need, effort
Energy: necessity, coming forth into being, urgency
Mundane: doing what must be done, chores, hard work
Divinations: Resistance (leading to strength), recognition of örlög (ultimate law, primal truth), innovation, need-fire (self-reliance), personal development and life lessons, achievement through effort; or constraint of freedom, distress, toil, drudgery, laxity, warnings, worry, guilt, moral cowardice, unfulfilled or unrecognized needs.
Your Daily Witches Rune
Today's Witches Rune
The Eye
Meaning: The eye has always been a powerful symbol for different cultures. Some believe that the soul resides in them, while others think it's possible to curse a person merely by looking at them. Through our eyes we connect and express emotions and thoughts. Thus, this is one of the most powerful runes in the set, emphasizing the importance of any rune close to it. The Eye symbol is also related to "vision" is all senses, including the physical. This rune can represent our eyes and optic nerves. It can also represent activities such as research, analysis, photography and creative visualization. When it appears, there's an urge to observe, to explore, to understand deeply what is before you. This rune is usually related to sudden realizations. Not necessarily a 'shock' (unless some violent rune is close it, like the Scythe and the Man), but more related to the lifting of veils. Your eyes are suddenly open, and you see things that were unknown to you before. A change of perception and focus in life is to be expected when this rune appears… whatever the situation is, the way you see it will be transformed.
The Eye rune also says that now it's time for you to go after what you want. Your focus is powerful right now, and everything you concentrate on can become successful.This rune often represents a lonely journey towards a goal… it suggests a calling and a connection to something bigger, a sense of purpose. Your path is clear to you now; you know which way to go, even if you don't know where exactly it'll take you. In a spiritual level, This rune can represent a development of one's psychic skills, or an advancement in one's spiritual path. As you connect yourself to a deeper source, and learn to trust, you gain wisdom and your eyes see far. A higher power seems to be guiding you in times when the Eye appears. Like the Sun rune, this rune can mean that right now all eyes are on you. But unlike the former symbol, when the Eye appears there's some discomfort related to such attention. It may be excessive and even unwelcome. In fact, this is one of this rune's most negative facets: it may show an invasion of privacy, when someone (or even you) pry into another's life and scrutinize their every move. Beware of flatterers and stalkers. The Eye cautions against obsession and the tendency to spy on other people's affairs. In a relationship reading, the Eye can symbolize a predestined bond to another person.
Note that this does not promise a happy ending, but simply says that this connection is powerful and will be very important in your life. In fact, because the Eye rune is a solitary one, it is possible that the people in the relationship cannot be together due to difficult circumstances. Still, your bond that person will transform you. In a negative way, this rune can cautions against invading your partner's personal space or stalking them.
Your Ogham Reading
Fearn-Alder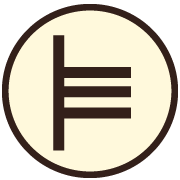 The third letter of the Ogham alphabet is Fearn it means alder-tree. Alder-bark has been used by many cultures to treat various health problems and disorders, everything from insect bites to tuberculosis. Alder is a very water resistant hardwood and is often used in foundations where water is present. The key points to remember with alder are confidence, shielding, guidance, and standing up to ones enemies. Just as water stands no chance against alder, your enemies are at a loss when you have the protection of the alder.
Fortune – Drawing this Ogham is a sign to remain true to yourself and resist all temptation!
Crack the Cookie