The Witches Divination Digest for September 11
Tarot Card of the Day
Page of Swords
This card is traditionally entitled The Page, but in some modern decks appears as a Princess. The traditional interpretation is about a messenger, an emissary or liaison between separate camps, charged with faithfully representing one side's communications to the other. Because of this role, we do not think of this person as a servant, but rather as a diplomat, facilitating sensitive negotiations, often under difficult conditions.
This person is acting as the eyes and ears of her patron, and so she is sometimes referred to as The Watchman. Even kings are powerless if this messenger chooses to use her access to sensitive information for her own gain, as is implied by her other name, The Spy.
She could even be working as a double agent, playing both sides against each other to serve her own agenda. Her title is really camouflage in itself, serving as protective coloration so she can move among the people unrecognized, collecting information anonymously. Her vigilance often conceals an ulterior motive. She is a watcher who must herself be watched, because she dreams of someday taking matters into her own hands, preempting the plans of her employers.
Tarot.com is Part of the Daily Insight Group ©2018
Daily Love Tarot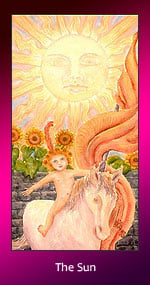 The Sun is an invitation to a supportive relationship in which you can be yourself around your significant other. You feel relaxed and loved, with a sense of peace of heart. You've struck gold and entered into a new realm. Keep looking if this is not how you feel because it is how things should be. You can't expect improvement in a long-term union if you do not take effective steps to create it.
Your Erotic Tarot
The Judgment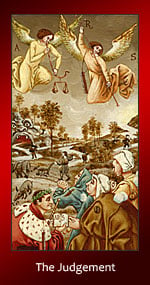 The Judgment card represents a sexual awakening, and now that you aren't afraid to move in a new direction, a whole new world awaits you. What sex positions do you want to try, and which fantasies have you been dying to act out? Being honest with yourself and potential partner(s) about the details of what you desire will help you get what you want faster, and the end result will be much more satisfying. And above all, enjoy your sexual liberation!
Your Daily Rune for September 11
Mannaz
"Man-az" – Literally: "Mankind"
Esoteric: Humankind, awareness
Rune of the Divine structure of intelligence in the human soul or psyche. Rune of the horizons of human existence and collective potential.
Psi: mind & memory (Hugin & Munin), the difference between human and all other life, development of the intellect, rational mind, perfected intelligence
Energy: psychic order of the gods reflected in humankind, projection of Self into time
Mundane: thinking, planning, analysis, the human condition, people at large (contemporary: the masses)
Divinations: Divine structure, sustainability, intelligence, awareness, social order, divine influence in life; or depression, mortality, blindness, self-delusion, collective suicide, bigotry, elitism, intellectual arrogance.
Governs:
Self-Actualization
Realization of the divine structure in humankind
Increase in intelligence, memory and mental powers (passing tests)
Unlocking the third-eye hvel, the "mind's eye"
Activating the dynamics of your own inner Christus, or Higher Self
Awareness of our roles as co-creator with the gods and nature
Mental and spiritual potential
Your Animal Spirit Guide for September 11

If You Find Yourself Being Guided by the Cardinal
Crack the Cookie
The Wisdom of the Budda
Just as treasures are uncovered from the earth, so virtue appears from good deeds, and wisdom appears from a pure and peaceful mind. To walk safely through the maze of human life, one needs the light of wisdom and the guidance of virtue.
THE WITCHES' REDE OF CHIVALRY
Insofar as The Craft Of The Wise is the most ancient and most honourable creed of humankind, it behoves all who would be witches to act in ways that give respect to the Old Gods and Goddesses, to their brothers and sisters of The Craft, and to themselves
Chivalry is a high code of honour, which is of most ancient Pagan origin and must be lived by all who follow the Old Ways.
Know well that thoughts and intent put forth will wax strong on many planes of existence and return, bringing into creation that which has been sent forth. For this reason the adept must exercise discipline over his or her thoughts. Remember, " as you sow, so shall you harvest"
It is only by preparing our minds to be as Gods that we may one day unite with the Godhead.
"This above all … to thine own self be true…" 
A witch's word must have the validity of a signed and witnessed document. It is only by developing such mental discipline that great power may be controlled and directed
It is well to refrain from speaking ill of others for not all truths of the matter may be known
Pass not unverified words about another. For the most part hearsay is a thing of falsehoods
Be honest with others. Have them know that honesty is likewise expected of them
The fury of the moment plays havoc with the truth. Strive always to keep your head
Harm not another. Think always of the consequences of your actions
Dignity, a gracious manner, and a good humour are much to be admired
As a witch you wield much power. Therefore exercise much discretion in its use
Courage and honour endure forever.
Offer friendship only to those worthy of it. To associate with younger souls will only pull you down
Those who follow the mysteries must be above reproach in the eyes of the world
Keep pride in thyself. Seek perfection in body and in mind
A Little Humor for Your Day
Save
Save</