The Witches Divination Digest for Monday, September 10th
Tarot Card of the Day
The Hanged Man
The Hanged Man usually indicates a lack of ability to help oneself through independent action. The energy is arrested and awaiting judgment. With this card, there is no avenue for the will to regain control until the situation has passed.
This represents a good time to be philosophical, to study and meditate upon the position you find yourself in, and to form resolutions for the moment you become free again. Only those who possess wisdom, patience, and optimism will be able to see through limitations, including possible humiliation, to grasp the inspiring lesson one can gain from such an experience.
Tarot.com is Part of the Daily Insight Group ©2018
Daily Love Tarot Card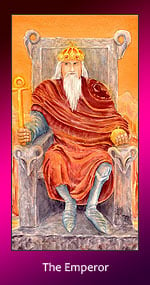 The Emperor
A hidden aspect of the past is revealed and is something that lets you tear down a wall that keeps you boxed in. What old memory fogs the mind and your emotions today? Let it go because it is to do easy now. The freedom turns into courageously liberated, wise, and realistic energy. If single, it eases a focus on desired outcomes. That allows someone to feel free to express warmth without pressure, and they will.
Your Erotic Card of the Day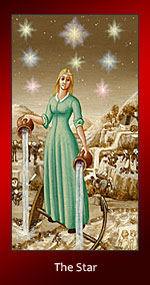 The Star
The Star card shows that your sexual energy is burning bright, and the future looks extremely promising. There may be a few obstacles in the way of getting what you want, but you're very confident in your sexual prowess so you welcome a little healthy competition. You're determined to pursue a sexual conquest and make them yours, and the Star predicts that you have all the right moves to accomplish your lustful goals. Your ego actually works more in your favor than against your goals today.
Your Rune for Today
Nauthiz
"Not-this" – Literally: "Need-fire" or "Necessity" – Esoteric: Constraint, Friction
Key Concepts: Need, resistance, constraint, conflict, drama, effort, necessity, urgency, hard work, need-fire, life lessons, creative friction, distress, force of growth, the consequence of past action, short term pain for long term gain

Psi: resistance, need, effort
Energy: necessity, coming forth into being, urgency
Mundane: doing what must be done, chores, hard work
Divinations: Resistance (leading to strength), recognition of örlög (ultimate law, primal truth), innovation, need-fire (self-reliance), personal development and life lessons, achievement through effort; or constraint of freedom, distress, toil, drudgery, laxity, warnings, worry, guilt, moral cowardice, unfulfilled or unrecognized needs.

Governs:
Overcoming distress or negative örlög
Acceptance of the unchangeable
Development of magical will, the manipulation of wyrd
Understanding the dynamic force of "resistance" in the process of creating
The generation of creative energy for problem solving
Protection of one's own needs
Recognition of personal need
Love magic; especially to obtain a lover
Your Weekly Influences for September 10
Tarot Influence
Queen of Swords
Often mournful from loss or infertility. Quick witted, gracious and kind but firm
Astrological Influence
Taurus Reversed
Taurus reversed represents unwarranted stubborness and impulsiveness.
Element Influence
Fire
Fire denotes the unleashing of raw energy and change. The status quo may be about to crumble, but will be replaced something better. Fire also provides light to those in the dark and warmth for a cold body and spirit.
Your Ancient Symbol Card for Today
The Dove

Throughout history the Dove has symbolized peace and innocence in nearly all cultures. Dove's soft cooing and gentle nature bring a calmness to any situation. The Dove appears where peace has been attained or there is a need to bring events to a peaceful ending. It denotes a time to let lose of grievances and settle conflicts in a way that benefits all parties equally.
As a daily card, Dove suggests the need to put an end to conflict in your present life. The conflict may be yours or may be that of people close to you. Regardless of the parties involved, you have been called upon to bring the discord to an impartial end.
Your Animal Spirit Guide for September 10th
Advice From A Hawk
Your Karmic Number for Monday, September 10
You handle yourself with decorum when faced with adversity. Buddha would consider you equanimous right now, having received this number 11. You may have even been a spiritual leader in a past life. People will turn to you during a catastrophe or for guidance about their hectic lives. The guru role suits you. If you are already a counselor of some kind, rest assured that you are helping people even if you can't see the results yet. Whatever tools you share are being taken seriously. If you feel some agitation, step back and breathe to regain your composure. In a small way, you are saving the world. No pressure!
The Wisdom of Buddha
He who loves 50 people has 50 woes; he who loves no one has no woes
A Little Humor for Your Day