The Witches Digest for Friday, December 29, 2017
(Part 2)
Preview of January Energies
Foresight for Success
As the year is winding down, it's helpful to have a look ahead at January, a pivotal jumping off point for 2018. In chaotic times like these, having foresight about societal and energy cycles can be both comforting and an essential tool for spiritual transformation. Continue reading for highlights of energies unfolding and what they mean.
Background
This has been one of the most unusual years in our recent history. In fact, our collective psyche continues to process the relentless cascade of changes, surprises, and uncertainty. There is much to integrate and heal.
Given this background, it's essential to regularly connect with a higher view of happenstance. That includes outer-world events and your personal life situation.
Many things are not as they appear. Consider that some of the challenges and craziness may be divinely orchestrated to catalyze mega shifts and awakening. Factor in the potential of blessings in even the direst circumstances.
When you connect with the higher view, it's easier to discover peace within. This leads to more stability, more hopefulness, and more creativity to manifest your best life.
Here's another thing – more peace within helps you to see the world in a heart-centered way. This amplifies your ability to make a beneficial impact as a divine changemaker. The world needs your love and inspiration, put into practice daily.
January Planetary Opportunities
January's planetary energies provide a number of opportunities to create beneficial personal life shifts and see yourself more clearly. Examples are noted below.
Supermoons Jan 1 and 31
January begins the year in a powerful way with two supermoons. These include a Cancer Full Moon on New Years, then another Full Moon with total Lunar Eclipse the last day of the month. Both of these times are energy gateways with illumination that can help you to get resourced in new ways. Relationships and other issues will have a helpful spotlight, which can translate into resolutions and other breakthroughs.
New Moon Jan 16/17
The first New Moon of 2018 can be an opportunity to clarify feelings about key goals. The energies will support getting grounded and tapping a deep knowing within regarding what stirs your passion. Use this time to self-reflect about what your goals will feel like in manifested form. Your heart needs to be involved for success. Doing this assessment before specific intention setting can make a significant difference in outcomes.
Your Personal Preparations
Now is a good time to reflect on goals you previously set to see what needs updating before the new year. These are fast-changing times and you are changing fast too. Factor in your growth and make adjustments so you can soar in 2018!
You have more options than you realize as you're preparing for next year. Knowing that, make your intentions and plans with a quantum mindset that factors in the unexpected and wonderful you cannot yet see.
Apply the same quantum mindset as you focus on your outer world. This mindset, since it is spiritual and big picture, will help you to stay hopeful and resourced in the coming year.
Your Daily Horoscopes for Friday, December 29th
Aries
Today's energies are primarily peaceful, dear Aries, and you're in a good position to slow down and enjoy the moment. Mind you, this morning you could be battling a bit of restlessness or indecision, as part of you might feel you should be more involved than you are. Priorities may be hard to decide upon, but if you examine things carefully, you'll get to the right decision. Excess spending or borrowing can be an issue now. Take steps to wind down, which gets easier and, in fact, quite natural as the day advances.
Taurus
This is a great day for taking some extra "me time" and pampering yourself, dear Taurus. While this morning's energies tend to find you a little restless, it's best to avoid the temptation to overdo or overindulge. Others' demands on you may feel a little excessive. Or, you may be attempting to please someone and at the same time striving for independence. However, you'd do yourself the biggest favor by pacing yourself. Excess has a price even if the payment is deferred. You're better off keeping things even and smooth now so that you don't start off at a disadvantage tomorrow.
Gemini
The day is best used to unwind, take things easy, and release tension, dear Gemini. The Moon continues to spend time in the sign just behind yours, pointing to a need for reflection and a bit of anonymity before busier days ahead. This morning, a dichotomy or difficult choice can lead you to consider imbalances in your life. Something has to give in order to balance your life better, particularly when it comes to working and resting, or tending to physical needs and tending to emotional/mental needs. Today also holds the potential for better understanding a complex relationship or your own complicated feelings, once you get past the early morning restlessness.
Cancer
The Moon spends the day in your sector of dreams, hopes, happiness, and friendship, dear Cancer, and is void most of the regular waking hours, pointing to a real need — or excuse — to unwind and treat yourself to light activities. It's not an ambitious time today, and it's best to treat the day as a time for catching your breath. A Full Moon will occur in your sign in just three days, and in fact, will happen on the first day of the new year, and personal epiphanies are likely to be significant. For now, give yourself a break! Relationships also deserve a light touch.
Leo
The day's energies encourage and reward simplicity, dear Leo. Even so, early today can find your undecided or restless. While the Moon at the top of your chart usually keeps you on your toes, the Moon is void for most of the day's regular waking hours, and taking it easy makes the most sense now. You can nevertheless muse about your goals and keep your responsibilities in mind, but avoid pushing yourself or projects that could have a rough time of it if you went ahead with them. You'll be in the best shape if you take time to relax and center yourself now and pursue your ambitions later.
Virgo
The Moon spends the day in your sector of spirit and in harmony with your sign, dear Virgo. It's also void for much of the day, giving you the license to enjoy yourself without pressure or guilt. The trick will be allowing yourself to take this time! As well, this morning could find you a little tense or in a situation of "too much information." Too many choices can be overwhelming. You have a bigger than usual appetite for taking on new interests or developing existing ones, but the temptation may be to go overboard with this. Try to focus on releasing tension now. Give yourself a break today.
Libra 
It can be a little too easy to overdo spending or other indulgences now, dear Libra, but as the day moves forward, you're in a great position to simplify. In truth, if you want to treat yourself, streamlining is the route to take – it comes with less guilt and consequences. As well, focusing on your inner goals and values will do much more for your happiness than too much focus on external signs of success. The Moon spends another day in your intimacy sector, and you're inclined to embrace your deeper feelings rather than push them to the side. It's an excellent time to enjoy family or home life, or domestic activities, as well.
Scorpio
Mars and Jupiter are both in your sign, dear Scorpio, and they're heading towards an alignment that will be exact on January 6th. Even though it's more than a week away, these planets are very close to one another now, and there can be a building sense of excitement and enterprise as you end the year and begin a new one. You can feel increasingly motivated to do something special, and you have all the courage and resourcefulness to make your mark. Pay particular attention to your urges and hunches as you can be heading towards great things. Today, the Moon is in your opposing sign, however, and is void most of the day, suggesting it's best not to push yourself, anyone, or anything. Let your imagination go.
Sagittarius
Today's energies are easygoing as long as you keep things simple, dear Sagittarius. If you try to push things, however, you can feel the resistance! Early today, you may be doing battle with yourself. There's the part of you that just wants to tuck yourself away and the other part that is super motivated to shine in your routines, work, or daily affairs. Seek out a balance for best results now. Today doesn't support ambitious or bold moves, so aim to take it easy and go with the flow. Conserve your energy for opportunity periods.
Capricorn
The Moon spends the day in harmony with your sign, dear Capricorn, and this tends to make things easy for you. Even so, there is a stubborn quality to the day's energies, and if you're feeling raring to go and ready for action, you may very well meet some resistance. It may be best to enjoy some release of ambitions, tension, or pressure, and take things easy now. The trick is to allow yourself the luxury! Brand new endeavors are more likely to face obstacles, anyhow, and you're likely to benefit from a slower, reasonable pace.
Aquarius
The Moon spends another day at the bottom of your solar chart, dear Aquarius, encouraging you to take it easy. This morning, the Moon does brief battle with Jupiter at the top of your chart, and Jupiter is motivating you to grow, improve, and perform. As big as a draw this may be, you're unlikely to get very far today with the Moon's void that spans most of the regular waking hours. The energies of the day reward the easygoing, and it's a good idea to honor your need to wind down and play it safe just for now.
Pisces
You have both Mars and Jupiter in your solar eleventh house motivating and exciting you about new projects, initiatives, causes, and social events or friendships these days, dear Pisces. As they move closer to alignment this week and next, your enterprising side is alive and well. You may be on the verge of a brand new and innovative endeavor. Today, however, is better for rest and comforting, emotionally centering activities, even if you need to enforce this frame of mind. You could benefit from a break to get your bearings, and you'll be happy you took it!
If You Were Born Today, December 29th
Highly intelligent, you are able to work both sides of the brain well, with intuition as well as logic strong. You are a very likable person with good people skills, not only for the sake of charming them, but because you truly are interested in what makes people tick. You are partnership-oriented, drawn to close relationships more than most. Even so, your partnerships are not always traditional, and not always easy, either! You accept a lot from the people you love. Famous people born today: Mary Tyler Moore, Jude Law, Marianne Faithfull, Ted Danson, Jon Voight, Paula Poundstone, Pablo Casals, Alison Brie.
Your Birthday Year Forecast:
With the Sun and Moon in harmony in your Solar Return chart, the year ahead should be satisfying and balanced overall. You are in comfortable demand and personally popular, and you are able to achieve a decent balance between work and play; personal and professional life. For the most part, you are on top of your game this year, and positive connections with others can be made fairly easily. With the ability to handle your emotions successfully, there is less stress on both your mind and body. Your self-confidence and positive attitude will reward you!
Saturn transits your Sun this year from March 2018 forward, and this is stabilizing, although at times demanding. You are practical in your choices (for the most part), keeping your feet on the ground and honoring tradition as well as tried-and-true methods. You have the power of practicality, realism, and caution on your side. Work you have done in the past begins to pay off this year–not necessarily in dramatic ways, but in small, measurable ways. You may be recognized or rewarded in some way for the efforts you put forth. Because you project a more responsible and credible "you," people in authority are more inclined to appreciate you and recognize your work.
This is a year in which you put your life in order in some significant manner. Improved concentration, a more realistic outlook, and a practical awareness of the limits of time all help you to make steady progress, particularly in your career. Your concern for your future this year is stronger than usual, and you may find that projects you start, or investments you make, will benefit you for years to come. One of the keys to success this year is adopting a realistic, practical, disciplined, and orderly approach to your life.
The need to "get serious" about areas of your life where you've been slacking is likely now as Saturn passes over your Sun this year. New responsibilities are likely to present themselves this year, or you are likely to take them more seriously. Gone are the "rose-colored glasses." You are required to put in the effort to clean up areas of your life that need some order. With your ability to accurately assess your life, you can make real headway. The kind of progress you make now may not seem significant for the time being, but you will look back on this period of your life as one in which you truly made REAL progress towards your goals.
This is an excellent year in which to advance projects revolving around communications – writing, speaking, selling, and so forth. Your reputation may be enhanced through word of mouth. Making new contacts through learning and mental pursuits figures strongly as well.
Relationships may be stabilized and steady this year, or there can be a new sense of realism in existing partnerships. A sense of duty may lead you to sacrifice a personal pleasure for a cause or for a loved one; thus there could be times when you have to abstain from personal gratification for the time being. Financial discipline, realism, and maturity are possible during this period of your life. You are more conservative when it comes to spending, whether this is because circumstances are such that you need to penny pinch, or you are simply more realistic about your finances.
Renewed ties to old friends are possible, or you could enjoy a new sense of responsibility in existing friendships.
Err on the side of caution if offers arrive that seem too good to be true. Some confusion or possibly deception could arise in communications this year, and you may be skipping important details without even realizing it.
You are imaginative, creative, and communicate warmly and considerately. This is a good time for both teaching and learning, and for expressing feelings. Researching cooking, health, and nutrition can be fruitful now. It's also a strong time for marketing.
You have great enterprising spirit this year, attracting strong opportunities on both professional and personal levels. You are able to see the "big picture", which helps you to plan effectively. You have significantly more courage and gumption, making the year ahead a standout one in which you are ready to try new things and take on challenges.
You're also quite driven to make improvements and effect positive change in the year ahead. This positively impacts many areas of your life beyond the personal, including relationships and work.
This is a powerful year for getting your life in order in significant ways. It's also strong for enterprising endeavors. You're in good shape for staying on track and meeting your responsibilities, but also for balancing your time between work and play. This is a standout period for a more mature approach to finances or relationships. You'll find others more cooperative than usual, and you're pouring more energy into making things work.
2017 is a Number Six year for you. Ruled by Venus. This is a year of relative contentment. It's a time when love is the easiest to attract, and partnerships formed under this vibration have a better chance for longevity. You are especially able to attract others–and material things as well–this year. This is a good year for establishing harmony in the family and the home. Advice – develop existing relationships, be positive and receptive because these kinds of energies help you to attract what you desire.
2018 will be a Number Seven year for you. Ruled by Neptune. This is a year of preparation, chance, and refinement. It is not a time of dramatic changes. Instead, it's a year when reflection on the past is helpful, and when refinements to your life path should be made. It's a good year to study, observe, research, and analyze. Unexpected twists to your life story and "chance" meetings are probable. Advice – take stock of your life in order to prepare for more exciting years to come, examine the past and plan for the future, get in touch with your deepest needs and uncover your personal power, don't strain yourself or actively try to expand.
Get A Jump On Tomorrow
Your Horoscopes for Saturday, December 30, 2017
Aries
This can be a mentally active day, and at times, a restless one, dear Aries. It's perhaps busier than you'd like, but also a great time for creative ideas and warm, hopeful conversations. There may be part of you that's protesting your tendency to jump ahead with a new project or idea, as there are plenty of current things to do first before you take on more. Jupiter in your solar eighth house this year is helping you focus, in general, but today you can find it hard to make a choice. This is a potent period for conversations with children or friends and lovers, as you're communicating your affection naturally, honestly, and with excellent results.
Taurus
The Moon moves out of your sign and onward, dear Taurus, and you're likely to feel less pressure to push forward and more inclination to settle in, get comfortable, and enjoy yourself as the year draws to a close. The Moon is in your solar second house, and the experience of this house is very relatable (it's the natural house of Taurus). The second house rules money, personal possessions, and those things you consider valuable, including your feelings about yourself, your talents, and what you have to offer. It's a good time to do an "inventory" of what you have going for you as it helps to check in this way from time to time and remind yourself of all that you already have. You may feel a little divided between spending time with others or throwing yourself into a solo endeavor, but as the day advances, you're in excellent shape for stimulating, warm, and open conversation.
Gemini
The Moon enters your sign today, dear Gemini, and this influence can feel as if you're coming out of hiding or that your feelings are blossoming. You may also awaken to the need to connect with others or to feel more emotionally connected to the world around you. It's a period for getting noticed, and you'll be saying goodbye to 2017 (and hello to 2018) with the Moon in Gemini. Today brings hopeful and positive energy to your outlook, particularly through conversation with a special person or significant other in your life. This morning, you may be feeling a little divided between wanting to pour your energy or attention into a solo endeavor and sharing time with someone special, but as the day advances, you're likely to grow increasingly more focused on connecting, communicating, and enjoying the natural flow of conversation. It's a great time to reach out, support, and accept help, as well.
Cancer
The Moon enters your privacy sector today, dear Cancer, and will transit this rather hidden area of your solar chart until early on the first of January. The first day of 2018 features a Full Moon in your sign and big personal epiphanies, but for now, you're inclined to lay low and keep to yourself or simply keep a low profile — and it's precisely what you need in this stage of the lunar cycle! Use this time for getting to know your feelings and needs more intimately. Healing and replenishing activities are most appropriate now, and you tend to find them quite easily, although this morning, you may struggle a little with feeling content whatever you choose. Perhaps you feel if you do one thing, you're missing out on something better. However, as the day advances, you grow more focused and comfortable. This can be a fertile time for money, business, work, or health ideas and methods.
Leo
The Moon moves into your sector of friends, groups, dreams, community, and hopes, dear Leo, and you're seeking out a connection to something bigger than yourself today. This brief transit continues until the New Year begins, and you're ending the year in a rather sociable frame of mind. It's a good time to let go of worries and concerns and instead focus on making connections as well as plans for achieving your happiness goals. While you can feel a little torn between sticking with what you know and going out on a limb this morning, as the day advances, you're ready to express your feelings, affections, and creativity. This is, in fact, a fabulous time for showing love and receiving it in kind.
Virgo
You're ending the year with more clarity, dear Virgo, and while you can feel a little restless or divided this morning, you're in great shape for catching up with someone, the news, or a special interest today. Conversations can be heartwarming. The Moon climbs to the top of your solar chart and will stay here through to the end of 2017. It's a powerful time for thinking up long-term goals or reconsidering ways to achieve current ones. It's also a good time for willingly making adjustments on a mental level rather than stubbornly sticking with outdated methods or ideas.
Libra 
The Moon moves into harmony with your sign today, dear Libra, and you're likely to feel more spirited and liberated. This transit is brief, but takes you to the end of 2017! You're in a good frame of mind and feeling quite hopeful about what's ahead of you. The Moon will reach the top of your solar chart just after you begin the New Year, making it quite ideal to survey your longer-term goals and form some resolutions. For now, you're in particularly good shape for communicating, connecting, and friendship, and you'll enjoy some time spent freer of worries about your responsibilities.
Scorpio
The Moon moves into your intimacy sector early today, dear Scorpio, and this brief transit takes you to the end of the year. The Moon will move into harmony with your sign on New Year's Day, and you'll feel a little freer and ready for action then. For now, you're in a great position to get into deeper touch with your desires, needs, and wants, and some year-end introspection can do you a world of good. Today is also suitable for giving particular thought to money, work, health, and habits, and for making plans to better take care of these areas of your life. Your mind is fertile and resourceful now.
Sagittarius
The Moon moves into opposition with your sign early today, dear Sagittarius, and while this might sound like a contrary position, it has some distinct benefits. For one, it puts you in the position to enjoy a new perspective on your life, whether this happens naturally or through the eyes of someone close to you. For another, it's a good time to release some pressure or focus on personal plans and redirect more of your energy into your relationships. Energy levels may not be excellent at this time. This morning, you can be filled with ideas but not sure what to do with them. As the day moves forward, though, you find natural outlets for communicating your ideas and expressing yourself. It's an excellent time to pursue a personal interest.
Capricorn
The Moon moves into your work and health sector today, dear Capricorn, and this transit will remain until the end of the year. The New Year is fast approaching and will begin with a Full Moon and a heavy emphasis on relationships, particularly of the one-on-one variety, for you. However, today and tomorrow are good for clearing up various chores and tasks as you're inclined to want to straighten things out and take care of details now. Even with this practical focus, as the day advances, you're in particularly good shape for work behind the scenes, research, or conversations about private matters that feel especially natural and lead to healing.
Aquarius
The Moon moves into harmony with your sign today, dear Aquarius, and this transit will take you to the end of 2017. You're in a playful, lighthearted, expressive mood, and plenty of opportunities are likely to emerge for entertainment, leisure time, and play. A Mercury-Ceres aspect helps communications even further as you're getting your message across warmly and personably. There can be some tendency to take on a little too much this morning, but as the day pushes forward, it's easy to go with the flow and enjoy yourself as you do. The New Year is likely to begin with a call to action, but for now, you're ready to unwind.
Pisces
The Moon moves to the bottom of your solar chart early today, dear Pisces, and it will stay there through to the end of 2017. It's a very comfortable place to be, as long as you're in the mood to lay low, relax, and enjoy familiar faces and places. You'll begin the New Year with the Moon entering your house of play, romance, and entertainment and a Full Moon celebration vibe to boot. However, until then, you have excellent support for winding down and getting in touch with your needs, wants, and feelings.
Cat Astrology: Traits by Zodiac Sign
Find your cat's sign and learn more about their personality…
---
Do you have a pretty kitty or a downright fat cat? Trust us, the cosmos affect your kitties' personalities and moods just as much as they affects ours.
Look to your cat's zodiac sign for clues to why your little beastie might be a lover … or a biter.
Part of the Daily Insight Group ©2017
Daily Tarot Card for the Day
The Lovers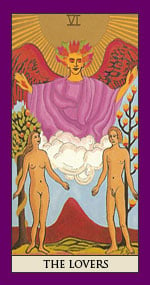 Keywords: choice, decision, love, communication, inspiration (ideas from above)!
Astrological Correspondence: Gemini
The Lovers card is representative not only of crucial life choices, but also of lovers, couples, and other partnerships, like business partners, siblings, and friends. The angel between a woman and a man, depicted on this card, symbolizes the struggle of deciding to follow one's heart versus one's temptation or obligation. The Lovers card symbolizes the choices that must be made to progress toward higher self-awareness; choices also reflect emotional values, indecisiveness, hesitation, and our fears about making wrong choices. This applies not only to love relationships – it is applicable to any relationship in which people are drawn together, even a casual one. It's the card of uncertainty!
Daily Love Tarot for the Day
The Emperor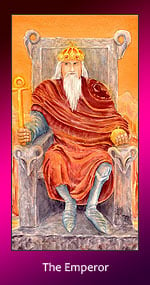 The Emperor card has selected you to let you know that you sow seeds of better things and more fulfilling times ahead. Give yourself permission to reach out for more, especially if you are dissatisfied. You create a solid foundation, built on a sense of higher purpose. If your current relationship suffers from stress, today let tender actions reveal what you may be unable to put into words. Rebuild, from the ground up.
Your Daily Erotic Tarot
The Judgement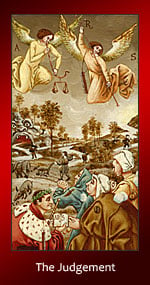 The Judgement card indicates that you've had some sexual hang-ups in the past, but you're working toward getting over them. This is a period of transition, and although you're doing the work, you may not be getting the exact results you desire. Forgive yourself for past missteps in order to take a sexual step forward today. Being afraid to express your true erotic self can even effect other areas of your life, so getting beyond your sexual inhibitions translates into a happier overall existence.
Your Daily Rune for Today
Hagalaz
"Hag-all-az" – Literally: "Hail" or "Hailstone" – Esoteric: Crisis or Radical Change
Key Concepts: hailstones, crisis and catastrophe, disruption, radical change, destructive elements of nature, severe weather, the uncontrollable, unavoidable unpleasantness, Jungian shadow, psychoanalysis, regression, acceptance of the unalterable
Psi: disruption, change, personal past

Energy: power beyond human ability to harness, perfect pattern, seed formation, objective confrontation, destructive natural forces, chaos
Mundane: bad weather, obstacles, surprises, shelter
Divinations: Change according to ideals, changes for the long-term good, controlled crisis, corrections, completion, inner harmony; or catastrophe, crisis, stagnation, loss of power, loss of property, short-term disappointment, victim-consciousness, obsession with the past, blame.
Governs:
Completeness and balance of power, integration of unconscious shadow elements
The inevitability of Fate, Wyrd, Orlog
Evolutionary progress and operations of becoming
The outworking of a perfect pattern
Protection through banishing or exorcising disharmonious patterns, protection
Awareness of the unconscious ideas for eventual processing
Causing discomfort in others by awakening their own subconscious 'garbage'
Your Influences for the Weekend of December 29th
Tarot Influence
Six of Coins
Material gain, charity and justice are at the forefront. That which is earned will be given.
Astrological Influence
Gemini Reversed
Gemini reversed denotes vacillation. Decisions are not made, because all side of the issue pull with the same strength.
Element Influence
Air
Air denotes freedom and the ability to transcent the mundane. You may be, or may soon experience a spiritual or secular liberation.
Your Animal Spirit for Today


The Words of Confucius
It does not matter how slowly you go as long as you do not stop.
A Little Humor for Your Day
The Plan
---
Does any of this sound familiar around here ???
In the beginning there was the Plan.
The plan was based on a set of Assumptions.
And the Assumptions were without substance.
And thus the Plan could not be sustained.
And therefore darkness was upon the face of the Workers who are charged with carrying out the plan.
And they spoke among themselves, saying, "This plan: It is a crock of sh*t, and it stinks of same."
And the Workers went unto their Supervisors and said, "It is a pail of dung, and we cannot live with the smell."
And the Supervisors went unto their Managers, saying, "It is a container of excrement, and it is very strong, such that none may abide by it."
And the Managers went unto their Directors, saying, "It is a vessel of fertilizer, and none are able to abide its strength."
And the Directors spoke among themselves, saying to one another, "It contains that which aids plant growth, and it is very strong."
And the Directors went to the Vice Presidents, saying unto them, "It promotes growth, and it is very powerful."
And the Vice Presidents went to the President, saying unto him, "This new plan will actively promote the growth and vigor of the company with very powerful effects."
And the President looked upon the Plan and saw that it was good. And the Plan became Policy.
And this is how sh*t comes to happen.
–Author Unknown
*
Remember for all your magickal needs, think Magickal Necessities
Save