The Witches Digest for Wednesday, October 25th
(Daily Divination)

Tarot Card of the Day
Ten of Wands
---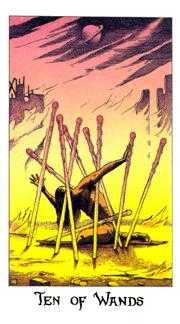 This suit, most often called "Wands" and sometimes called "Rods" or "Staves," represents initiative, ambition, drive and desire. This is the suit of enterprise and risk-taking.
The Ten of this suit represents an all-out effort, an obsessive commitment to a task which demands everything you've got. The person shown in decks with pictures is in no position to rest until he makes it inside the stout walls of the well-defended castle in the distance. If he fails, he will become prey for the highway robbers after dark.
It doesn't matter that he's overloaded and underfed. With this card, you have to do whatever it takes to get to completion — nothing can be allowed to interfere.
Part of the Daily Insight Group ©2017
Tarot Love Card of the Day
The Emperor
---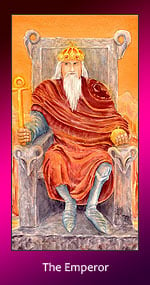 The Emperor card has selected you to let you know that you sow seeds of better things and more fulfilling times ahead. Give yourself permission to reach out for more, especially if you are dissatisfied. You create a solid foundation, built on a sense of higher purpose. If your current relationship suffers from stress, today let tender actions reveal what you may be unable to put into words. Rebuild, from the ground up.
Erotic Tarot Card of the Day
The Pope
---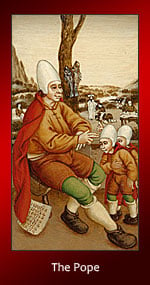 The Pope represents pure masculine energy, and even if you're female you're going to be identifying more with your male counterparts today. The Pope shows you that coming to terms with past mistakes and taking responsibility for them in the present eases sexual tension, so let go of the past to free yourself from your inhibitions. You actually have quite the skill set when it comes to making sexual moves, but waiting until the time is right before taking the plunge can be a real turn-on. Let the anticipation build until you can't take it anymore!
Psychic Tip of the Day
TWO DREAMING
This is a great day for the two of you to begin again. Discuss your plans for the year ahead and grow together as you plan your growth. Are you excited about the future?
Part of the Daily Insight Group ©2017
Your Daily Rune For October 25th
Isa
"Iss-ah" – Literally: "Ice" – Esoteric: Stasis, Stillness
Rune of concentration of things in a static or frozen state. Rune of stillness and the Ego-Self.

Psi: mental faculties, focus, ego, self-image/self-identity

Energy: stillness, contraction, stasis
Mundane: cold, self-preservation, harsh reality
Divinations: Concentrated self, ego-consciousness, self-control, unity of being; or egomania, dullness, blindness, dissipation, immobility, self-centeredness, lack of change, psychopathy.

Governs:
Development of concentration, will and focus
Halting of unwanted dynamic forces as an act of self-defense (ard against demonic influences)
Basic ego integration within a balanced multiversal system
Power of control and constraint over other wights (entities), emotional outbursts
Focus of the will into single-minded action
Your Ancient Symbol Card for Today
The Magus


The Magus is the physical embodiment of decisive action based upon knowledge and aimed squarely at specific goals. Thoroughly Yang by nature and firmly set in the material world, he none-the-less has a powerful spiritual connection as well. His knowledge, wisdom and skill are all encompassing. He is complete. His power as a creator is unmatched on our earthly plane. He is self-aware and unafraid to act. His enormous strength gives him the freedom to act as he chooses. However, responsibility comes with that freedom. Because he is not bound to the restraints of others he must choose how to act. The question that always lies before him is should he act morally, or forsake ethics for personal gain.
As a daily card, The Magus suggest you currently possess a tremendous power and freedom to move your life in any direction you choose. In short, you can make things happen. Your true challenge at the moment is to move forward without trampling the dreams of others. Fortunately your moral fiber is strong as well, and will guide you down the right path.
Your Animal Spirit for Today
October 25, 2017
Wolf
Wolf can survive either as a loner or as part of a pack, and he howls to remind you that you have to balance the needs of others with the needs of the self. If you're giving yourself away to your own detriment, you are living in opposition to Wolf medicine. Return to balance—and begin feeding your emotions, your mind, and your body.
Your Karmic Number for Wednesday, October 25th
You are a natural leader today. People will look to you to clear a path for them to follow. You may be asked to take the reins of a project or situation because of your ability to listen and provide clear communication. Don't be shy or doubt your abilities – you have unique talent that only your own self-doubt can hide. Abundance flows to you when you step into the role of leading others. If you aren't offered an opportunity, look for one as a volunteer or even start writing a blog.
Crack the Cookie
The Wisdom of Buddha
It is a man's own mind, not his enemy or foe, that lures him to evil ways.
And that's all folks!
Save