The Witches Digest for Tuesday, October 17th
(Part 3, Horoscopes & Daily Divination)
Your Weekly Karmic Forecast: October 15 – 21, 2017
The Karmic Tools Weekly Forecast covers the current planetary transits which affect people in different ways and to various degrees of intensity. Take notice when it is a Personal planet (Sun / Moon / Mercury / Venus / Mars) interacting with a Social (Jupiter/Saturn) or Collective planet (Uranus / Neptune/Pluto). And pay extremely close attention when it is a Social planet interacting with a Collective planet because that means something *big* is brewing that will move large groups of people along their evolutionary paths. Tuning in to the energy and rhythm of the planets can serve as a useful *guide* as you move along your Individual Path. It also helps to understand your place within the context of the larger Social & Collective Story. Below, you will find out how these energies tend to manifest, as well as guidance and direction.
*NOTE*There are some days when there are NO CONTACTS (besides the Moon), please note that there are no missing entries, we just list the actual Activations of each week + the day they happen.  
Weekly Forecast: October 15 – 21, 2017
10/15 ~ Mercury (thoughts) ~oppose~ Uranus (radical shift): 
This energy tends to make your mind work in over-drive. Not that you think too much, but rather you may tend to think, speak and process information faster than usual. However, when you are moving that fast, sometimes you can overlook something vital. The negative expression of this energy tends to make you feel scattered and disorganized, but the positive side of it is making those brilliant connections that are normally just out of reach. Your perception and intuition are picking up so much in such a short period of time that you will want to review the details later to ensure you didn't overlook something crucial to your development. You may be impatient with same-old/same-old routine but check in with your body to make sure it is not just your monkey mind playing tricks on you. It is a good time to breathe and be flexible because if you are impatient with this energy, you are more likely to make mistakes. Anytime Uranus is involved, radical shifts and ah-ha moments are totally possible on an internal level, however, on an external level you may tend to blurt things our without proper forethought. Be sure to engage your Heart and some kind of filter, especially when communicating with others this week.
10/16 ~ Sun (source & essential Self) ~sextile~ Saturn (organization & structure):
This energy is good for getting serious and organized because the Sun also brings some much-needed clarity. With Saturn involved, practical actions based on responsible assessments will be rewarded, whereas, blowing things off or leaving loose ends will cost you (usually fairly immediately, the instant karma way). Even if this should happen to you, it is not personal, but Saturn's way of showing you (immediately) where your current limitations are. That's good info to have when making choices & decisions. This activation gives you access to self-discipline and the ability to consider all your options before deciding on anything. This is a good time to focus on your professional goals if possible, and start making a solid, feasible plan for the future. If you need to, seek the advice of a trusted wise elder (anyone with more knowledge/experience than you ; -)) And if you can't actually DO something in the direction of your goals today, take the time to meditate and connect to your plan mentally.
10/18 ~ Mercury (ideas, thoughts & concepts) ~conjunct~ Jupiter (expansion & learning):
It is time to expand your thinking & develop more conscious awareness! This is a powerful energy assisting you on many levels. You will make connections easily & quickly that help you integrate newly acquired information or knowledge, making you appear psychic (or at least lucky) to others. At this time, you can connect with your Highest ideal and most broad outlook for your life, and you may feel that you are finally ready to live your Truth. You are so connected to your own ideal that you naturally give others permission to live their Truth as well, creating an atmosphere of tolerance that feeds all involved. The challenge with this energy is going too 'broad' and missing details that are vital to your success. You will also miss out on crucial information if you are too overconfident and/or self-righteous in any way. Remain humble, knowing that your way works for you, but it may not work for others (and vice versa). And it is ALL okay! If you remain centered in the Light and your own Heart, this energy gives you a little boost to whatever you are creating at this time.
Venus in Libra: Cooperative, Loving, Balanced
October 14 – November 7, 2017
---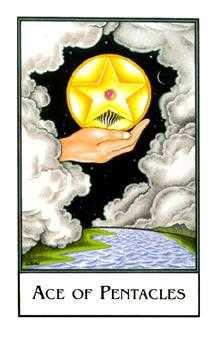 Your Love Tarot Card of the Day
The Devil
---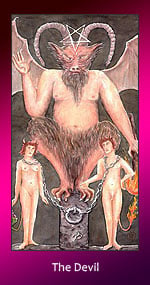 Pulling the Devil card does not mean that bad things are about to happen. What it does mean is that you have stooped to a level of thinking that is all about your ego. You have to look closely at what is driving you to be this way. You are in a wonderful relationship with an individual who adores you. You do not want to ruin the bond that is evolving between the two of you. You need to do some self-reflection in order to figure out what is going on with you under the surface.
Your Erotic Tarot Card of the Day
Strength
---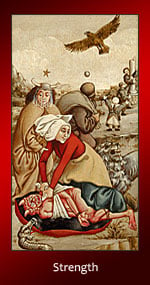 Your sex life gains some serious momentum today with the appearance of the Strength card. You have tremendous inner strength when it comes to getting what you want, and that includes sexual conquests. If you've been waiting for the right time to try out some new moves, the Strength card urges you to act now! There may be some obstacles in your way, but you welcome any and all challenges. Anyone playing hard to get right now is like putty in your hands.
Psychic Tip of the Day
FLIRTING DAYS
A romantic entanglement is changing the very nature of how every one sees you and who you truly are. Could you see any of this coming during that first flirtation?
Your Daily Rune for Today
Thurisaz
"Thor-is-as" – Literally: "Thurses" or "Giants" – Esoteric: Strong one, Resistance
Key Concepts: Unconscious forces, sociological forces, Thor, Loki as giant, chaos, destruction by natural forces, complexities of aggression, conflicts, disputes, psychological problems,  lightning, breakthrough, aggressive male sexuality, battering down barriers, thorn of awakening, trouble, enthusiasm

Psi: enthusiasm, struggle against unconsciousness, male sexual prowess
Energy: enthusiasm, self-empowerment, chaos, active defensive force, breaker of resistance, destructive storms
Mundane: storms, tools, weapons, conflict

Divinations: Reactive force, directed force, vital eroticism, regenerative catalyst, constructive conflict; or danger, defenselessness, compulsion, betrayal, dullness, disease, explosive violence, annoyance, strife
Governs:
Destruction of enemies, curses binds and fetters
Awakening of the will to action
Breaking resistance of blockages in body, mind and spirit
Increased potency and prowess in romantic relationships
Understanding of the division and separation of all things
Aiming the use of psychic force
The combination of right/left brain processes for generating powerful realization
Your Animal Spirit Guide for Today
Crack the Cookie
The Words of Confucius
By three methods we may learn wisdom: First, by reflection, which is noblest; Second, by imitation, which is easiest; and third by experience, which is the bitterest.
Earth Sky News for October 17: Watch for zodiacal light, or false dawn
This light can be noticeable and easy to see from latitudes relatively close to Earth's equator, for example, like those in the southern U.S. Earthsky's Deborah Byrd has seen it many times from the latitude of southern Texas, sometimes while driving a lonely highway far from city lights, in the hour or so before true dawn begins to light the sky. In that case, the zodiacal light can resemble the lights of a city or town just over the horizon. Meanwhile, skywatchers in the northern U.S. or Canada sometimes say, wistfully, that they've never seen it, although in recent years we've seen many photographs of the zodiacal light taken from those northerly latitudes.
You need a dark sky location to see the zodiacal light, someplace where city lights aren't obscuring the natural lights in the sky. The zodiacal light is a pyramid-shaped glow in the east before dawn (or after twilight ends in the evening, if you're in the Southern Hemisphere now). It's even "milkier" in appearance than the starlit trail of the summer Milky Way. It's most visible before dawn at this time of year because, as seen from the Northern Hemisphere, the ecliptic – or path of the sun, moon and planets – stands nearly straight up with respect to the eastern horizon before dawn now. As seen from the Southern Hemisphere, the same is true of the western horizon after true darkness falls.
The zodiacal light can be seen for up to an hour or so before true dawn begins to break. Once again, look for it about 120 to 80 minutes before sunrise. Unlike true dawn, though, there's no rosy color to the zodiacal light. The reddish skies at dawn and dusk are caused by Earth's atmosphere, and the zodiacal light originates far outside our atmosphere. When you see the zodiacal light, you are looking edgewise into our own solar system. The zodiacal light is actually sunlight reflecting off dust particles that move in the same plane as Earth and the other planets orbiting our sun.
Bottom line: No matter where you are on Earth, your local autumn is the best time to see the zodiacal light before dawn. Spring is the best time to see it in the evening.
Bruce McClure has served as lead writer for EarthSky's popular Tonight pages since 2004. He's a sundial aficionado, whose love for the heavens has taken him to Lake Titicaca in Bolivia and sailing in the North Atlantic, where he earned his celestial navigation certificate through the School of Ocean Sailing and Navigation. He also writes and hosts public astronomy programs and planetarium programs in and around his home in upstate New York.
Published on EarthSky
A Little Humor for Your Day
Signs Your Child Might Be A Witch
Your child asks to use the broom to cleanse, I mean clean, their room.
There is always a steak knife missing.
Your smallest pan keeps disappearing and reappearing, and always smells like ashes and potpourri.
All your candle holders are missing.
They now enjoy going to the fabric store with you and they want thread, ribbon and cloth of every color of the rainbow.
Their Christmas and Birthday wish lists consist of: a white or black full length bathrobe, blank journal books, window box herb gardens and a box of candles in assorted colors.
You just figured out that every full or new moon your child asks to have 3 friends spend the night; and strangely they are very quiet all night.
Your child now says "Merry Meet Again" every morning to you and whenever they leave they say "Merry Part".
Your recipe cards are disappearing and when you do find them you can't make since of the recipe since it doesn't require any actual cooking.
Your child has a new ID bracelet that reads something like "RavenMoon" "StarWolf" or "SunDragon"
Your child asks you one day for a compass, four pails of paint; blue, green, red, and yellow, so that they can paint their room correctly.
They insist that their first car be the color brown and have a license plate that says BROOM.
Their pillows are now filled with all your potpourri.
You ask your child to rake up the autumn leaves in the yard, and they come back with a small stick and a large stick; which you later find to have shiny objects on them and unidentifiable etchings.
Once a jar gets emptied in your house it ends up in your child's room filled with various objects like pins, needles, hair, honey, paper, and soil.
And that's all Folks!