The Witches Digest for Wednesday, August 30 – (Part 2 )
Current Moon Phase for August 30th
Waxing Gibbous
Illumination: 61%
The Moon today is in a Waxing Gibbous phase. This phase is when the moon is more than 50% illuminated but not yet a Full Moon. The phase lasts round 7 days with the moon becoming more illuminated each day until the Full Moon. During a Waxing Gibbous the moon will rise in the east in mid-afternoon and will be high in the eastern sky at sunset. The moon is then visible though most of the night sky setting a few hour before sunrise. The word Gibbous first appeared in the 14th century and has it's roots in the Latin word "gibbosus" meaning humpbacked.
PHASE DETAILS FOR – WEDNESDAY, AUGUST 30, 2017
Phase: Waxing Gibbous
Illumination: 61%
Moon Age: 8.41 days
Moon Angle: 0.49
Moon Distance: 405,496.02 km
Sun Angle: 0.53
Sun Distance: 151,015,399.25 km
Source
Inspiration for the Week – There Is Never a Time When You Were alone
The Gabriel Message Card for this Week:
There has never been a time when you were alone, no matter how you felt.
As we evolve into true multidimensional beings, there are times when we are feeling empty, disconnected and even abandoned. This can usually mean we are about to take a leap in energy to a greater expression of ourselves. As intriguing as that sounds, it can be profoundly uncomfortable.
We are in a powerful time that is encouraging us to liberate ourselves from our old ways of being. There are shifts in energy occurring within us that are requiring us to have the faith and trust enough to let ourselves expand into new aspects of life, even when they are unknown to us.
These feelings of disconnection are the indicators that we are about to move into a more expanded level of being, just as electricity in a house needs to be shut off in order for new wiring to be put into place.
Finding a place of neutrality and balance within us during times of outward upheaval becomes vitally important to our well-being. If we try to protect ourselves by contracting energetically in the face of challenging frequencies, we can feel as though we are cut off from our Soul and its guidance system. For me, this causes all sorts of old fear patterns to surface.
If I allow myself to run the chaotic energy I see in the world through my energy system, a downward spiral can develop which leaves me feeling overwhelmed and alone. It is in these times that this Gabriel Message just seems to fall out of the set of cards, reminding me of the truth of my existence — that I am always receiving God's love, that I am never alone, and that my connection to Source energy is only a breath away. It is only when I start to breathe more deeply and slow down that I can actually feel more alignment with my Source energy.
When I feel confusion and sense of disconnection, it's my clue to surrender to the process of realignment that is going on within me, rather than trying in vain to find the old connections that no longer exist.
We are moving into new levels of consciousness very quickly now. The faster I let go of the old ideas about how I am progressing, the easier it is on my nervous system. No matter how hard I try to box them into old forms, the energy connections are very different in feeling. I am being inspired and guided in new ways that can change moment to moment. It is a powerful opportunity to learn to treat myself with loving-kindness and to trust more.
Everyone is experiencing this opening in their own way, so our ability to stay neutral and balanced in our heart is extremely important.The consciousness of the Earth and all those living upon her is expanding and becoming more filled with Light. Whatever is not in alignment with this expansion is showing up to be transmuted.
The good news is that we are being inspired and guided through this process of expansion by Divine Love, eternally caring for us, always present, offering all that we need to fulfill our Soul's purpose in every moment. And we are never alone, no matter what we think about it.
Divine Presence,

Thank you for inspiring me in resourceful ways to stay balanced within myself through times of spaciousness, as well as times of upheaval. Help me to remember that there is a Greater Power working within me as I expand to allow the new frequencies of Light to be present within my human form. As I continue to stay in Alignment with my Source energy, help me to stay grounded and gracefully release old patterns that may be surfacing. I offer all that I am, all that I do and all that I say to Divinity working in and through my being, now and always. And so it is.
The Gabriel Messages Book #28
There has never been a time when you were alone, no matter how you felt.
Dear One,
If you only knew how much you are loved and cared for, you would see your life in a different light. There are Angels who have been with you since your birth, and some from before your birth who have been with you for eons of time. These Angels are here to bless you, to protect you, to care for you, and to love you as you walk your earthly journey.
You have only to turn within and you will find us. You have only to look around you, and you will find Angels manifested in different forms everywhere, giving love to you.
Open your mind and heart to receive this love and you will find miracles manifesting in your life. It is this willingness to receive that allows miracles to occur for you.
In your darkest hours we have been there. It is not that the Angels are here to take away your pain or your lessons learned through experience. The Angels are here for you to turn to in those hours of need. We are here to assist you so you will have the courage to go on, and find peace within your heart. You are on this planet to learn and to choose between the darkness and the light. Even if you choose darkness, there are Angels who will neither forsake you nor leave you. However, if you choose darkness you will feel very alone, and life will be a continuous struggle.
If you choose Divine Light, the Angelic voices are raised in magnificent rejoicing and all manner of assistance, seen and unseen, will be there to illuminate your path. Choosing to live in the light can simply mean to turn over your burdens and struggles to a Higher Power, and to ask the Angels to assist you in finding your way to peace, happiness and prosperity. These are the qualities of God in which you are meant to live.
Choosing Light means praying for the Divine Presence to fill you to overflowing with love and peace. It means taking the time to visualize your self-filled and surrounded by light, and even drinking in the Divine Light in order to nourish your heart and soul. Not only will this affect your mental and emotional state, but your physical body will also benefit.
The Angels are God's messengers. We live in the Light. All the forces of good in the Universe are here to assist you so you too can live in the Light and find peace and happiness within yourself. It is up to you to ask to know this as truth in your life. Open your mind and heart to receive all the love that is here for you right now. Remember your message from Archangel Gabriel for today:
There has never been a time when you were alone, no matter how you felt.
Your Daily Horoscopes for Wednesday, August 30, 2017
Aries
With the Moon and Saturn joining forces this morning, dear Aries, you come back down to earth. This is a great time for learning practical skills that will help you for years to come, so look for the lesson today! Your ideas and advice are well-received. You may feel a little deflated with this Moon-Saturn meet-up, but not for very long, as the Moon in fellow Fire sign, Sagittarius, brings pick-me-up energy to your life, particularly as it's also harmonizing with Mars and Jupiter. You're experiencing more faith in a relationship or confidence about relationship choices, and you're in great shape creatively speaking. The sharing of opinions flows well today. There is building enthusiasm about your future. Tonight, you receive a pleasant jolt of psychic energy as your imagination opens and you have a glimpse of where you want to go.
Taurus
The big plans of yesterday may need to come down to earth today, dear Taurus, as the Moon has its monthly meet-up with realistic Saturn. Even so, you're likely to feel quite satisfied with the realism now as you are in a better position to make healthy choices and decisions. You are learning to take more responsibility for your life on the deepest of levels with Saturn in your solar eighth house until December, and kicking bad habits or controlling negative impulses can be part of this. Today, you can find ways to organize or sort your finances or do something productive, mature, and growth-oriented that impresses Saturn! As the day advances, you can become all fired up about an intimate relationship or project — in a good way. You're ready to take on a challenge and solve a puzzle.
Gemini
The Moon's monthly alignment with Saturn occurs this morning, dear Gemini, and others may be reminding you of your responsibilities, or you are taking a relationship quite seriously. While this serious mood can be a little deflating at first, it can feel good to be seeing things clearly. You have a more realistic view of a person or relationship in your life, and this helps you build true confidence — that is, confidence based on the truth. Being there for someone in need can give you a wonderful feeling now. Your willingness to make some personal sacrifices to accommodate others doesn't go unnoticed. As the day advances, you're in particularly good shape for harmonizing with others. Creative ideas can come from a collaboration, or you can solve a few problems with someone special.
Cancer
This is another day for optimism and faith, dear Cancer, but today's is more grounded and realistic. Life is simpler this way, although the Moon's alignment with Saturn this morning may feel a little bit sobering at first. Take advantage of this energy for seeing a work project more clearly or for organizing or sorting through areas of your home or work. You can be especially willing to put things in order, resolve problems, and get to the bottom of matters. You might stumble upon information about a program for improving your health. A nice flow of energy is with you for accomplishing your work and fulfilling responsibilities with less effort than usual. This can be a fine time to recognize which daily habits can stand improving and to consider ways to reduce stress.
Leo
The morning is excellent for getting something just right along creative or romantic lines, dear Leo. The Moon has its monthly meet-up with Saturn, and this encourages you to be productive, to sort something out, or to get organized. Interactions can be on the serious side, and you might welcome a serious conversation now, or you may be bringing more structure to a creative project or idea. You're thorough, and this feels good, boosting your confidence. Focus on strengthening your plans and ties now. As the day advances, you're loosening up and tuning into your intuition. People understand your ideas, perspective, and beliefs, and you're likely to feel quite rejuvenated.
Virgo
Today finds you more introspective or retiring than usual, dear Virgo, and you can benefit from some time to yourself away from pressures and in better touch with yourself. Mind you, the Moon aligns with Saturn this morning, pointing to the need to bring more structure and order to your life or simply to your home. This is a great time for sorting out problems. While yesterday may have been a time for big ideas, filling in the details can be satisfying now. You appreciate the realism today. Once your responsibilities are handled, give yourself the chance to recoup and gather strength. Later today, you'll want to be a little more active and hands-on. You can enjoy original thinking about a financial or family-related matter.
Libra 
You can enjoy some reprieve from recent tensions, dear Libra, as well as emotional ups and downs. The Moon has its monthly meet-up with Saturn this morning, and asks you to do the mature thing, sort something out, or fulfill an obligation. This is a reminder that you won't be able to get much accomplished if you don't take good care of your mind and spirit. You could feel alone in your decision-making this morning, but once this is out of the way, you learn to be more self-reliant which boosts your confidence in the long run. Alternatively, this can be a time of practical study or application, or of instructive conversations. As the day advances, you feel more innovative and enterprising. It's a time for sharing your ideas and enjoying the process.
Scorpio
The Moon has its monthly meeting with Saturn today, dear Scorpio, and this morning has a down-to-earth feel as a result. While you've been entertaining lofty ideas and expectations, you benefit now from a more realistic approach, or you could thoroughly enjoy fleshing out the details of a plan. Earthy, grounding activities are favored all day, as these things turn your attention to the present, reminding you of the value of what you already have. Good advice about money may be circulating, or you can hash things out with someone and come up with useful strategies for taking care of business. The day becomes more spirited as it advances, although still quieter than most days. Clever ideas for making money or repurposing items and projects can come to you now. You can feel particularly enthusiastic about your work.
Sagittarius
The Moon is in your sign all day, dear Sagittarius, and the major theme is your emotions, as they demand your attention! You're seeking feedback and acknowledgment now. While this transit fires you up, the Moon aligns with Saturn this morning, bringing some soberness to the equation, and you're coming down from a day of too-high expectations. This doesn't have to feel like a hangover. In fact, you may relish the idea that you now see things more clearly. It's a good time to think up plans based on a realistic assessment of what can be done. As well, as the day progresses, you benefit from some supportive Moon aspects that point to satisfying interactions with friends, networks, or groups, and opportunities to share your ideas and learn something useful. This is a fine day to share a little of your expertise.
Capricorn
The Moon spends another day in your solar twelfth house, dear Capricorn, and you tend to want to retreat, escape, or take a break from the demands of everyday life. Even if you're among others, you may be keeping significant parts of you to yourself. This will change when the Moon moves into your sign early tomorrow, but you're in need of some extra rest today. The Moon aligns with your ruler, Saturn, this morning, and this can turn your thoughts towards serious matters. Assessing areas of your life that are no longer working for you can be in focus. Efforts to help others can bring intrinsic rewards now. The realism of the morning is grounding, even if it feels a little deflating for a few moments. As the day advances, you feel more purposeful and readily find outlets for expressing your feelings.
Aquarius
You're ready to put your emotions aside in order to get things done this morning, dear Aquarius. If a project comes under question, try to take it as a challenge. While you may be waiting for others to sense what you want or need, it's better to express yourself directly or wait until later today when people are more receptive. You can come to a healthy balance between optimism and realism today. Decisions are easier as a result, and so are relationships! People understand boundaries quite intuitively at the moment. Friendships and other casual relationships are in focus. Sharing ideas is fun rather than a lesson in frustration. You can be on the same wavelength as a friend or associate later today. Even with Mercury's retrograde, there can be a smooth flow in your interactions. You might have begun the day with a larger sense of your responsibilities, but the odds are in your favor for putting something behind you.
Pisces
You may be feeling more driven or ambitious than usual today, dear Pisces, with the Moon at the top of your solar chart and a strong sense that others are noticing what you're doing. Your senses are apt to be correct! While you can feel a little guarded, this is a good time to get yourself back on track. You find it easier to take a lesson from recent ups and downs and apply yourself more deliberately. The Moon aligns with Saturn this morning, and you can definitely feel the weight of your duties, or you receive a reminder of what needs to be done. Later today, you're likely to bring an excellent spirit of enterprise and innovation to your business, public life, leadership, or practical affairs. You can gain meaningful insight into others' motivations or benefit from developing a strategy for pursuing your goals.
Courtesy of Cafe Astrology
If You Were Born on Wednesday, August 30th
You are an extremely generous person who will bend over backward to help out a friend or loved one. You are that especially thoughtful person who remembers the "little things" about others. You are also very perceptive and people-aware. A humanitarian, you are sentimental without being sappy. At times, you may have a tendency to micro-manage your family and loved ones, as you seem to worry a lot about your future and your loved ones' happiness. You may need to be careful with this so that others don't perceive you as controlling or critical. Moodiness can be a problem for you at times. Learning to detach yourself and take a step back from situations will help you to better succeed in life. Your finances tend to fluctuate more than most. You are attracted to talented and successful people. You may have to deal with restlessness and changeability in your partnerships. Many of you go through many ups and downs in love.
Famous people born today: Cameron Diaz, Elizabeth Ashley, Shirley Booth, Mark Strong, Peggy Lipton.
Get A Jump On Tomorrow…..
Your Daily Horoscopes for Thursday, August 31st
Aries
Mercury is still retrograde (since August 12th), and today slips back into your sector of romance, creativity, and children, dear Aries. Mercury continues here in retrograde motion until the 5th and then continues in direct motion until the 9th. In the coming week, there can be delays or challenges related to the affairs of this sector, and you may need to redo or revisit past problems. If you're traveling back over the same ground, be sure to do it differently this time around! Something can be left up in the air, or people from your past may re-emerge. The creative process might feel as if it's moving backward, when in fact it's more of a realignment process that you're experiencing. You are thinking and expressing yourself in different ways. This is a good time to rethink recent decisions and choices. Today, you may be experiencing some reservations about a person, project, or situation – perhaps even a purchase. If you feel the urge to prove yourself, ask yourself if it's something you truly need to do. While the Moon's move into your reputation sector this morning serves to temporarily magnify the importance of duties and performance in your life, you're also in a good position to get some serious work done!
Taurus
Mercury, still retrograde, slips back into your sector of home and family today, dear Taurus, and this can cast a veil over matters surrounding your domestic or personal life until September 5th when Mercury turns direct. Problems around the home can require your attention, or old dilemmas can resurface. After the 5th, matters unblock and clear up, the information you've been waiting for arrives, and thinking about personal and domestic matters clarify. Also today, Venus forms a tense aspect with Saturn, and since Venus is your ruler, you could be feeling excluded or misunderstood. While this is likely to be a rather vague feeling, it can weigh on you if you allow it to. People can be a little detached or withholding, and you may be holding back as well. Do your best to work on problem areas, or to take a step back so that you can look at a relationship or concern objectively. Chances are, the problems can be fixed with a little patience. This is a beautiful time to consider and examine what it is that you truly value.
Gemini
Retrograde Mercury slips back into your sector of communication today, dear Gemini, after spending the first leg of its retrograde journey in your home and family sector. Mercury will be retrograde for only a week longer, not even, but you'll likely need to deal with some delays related to schooling, transportation, and communications that cause a few problems or confusion. Be vigilant about marking important dates and appointments on your calendar. You may be looking back at old projects and finding interesting information that helps you in the present. Today, with Venus and Saturn in a minor challenging aspect, you may be seeing a situation in a weak or negative light. Be aware that this aspect can pull up fears or inhibitions to the surface and if others are a little cool or critical with you, it's likely about self-protectiveness. It's a good time to take a look at your life with a bit more objectivity. Aim to get in better touch with your needs and desires.
Cancer
Mercury has been retrograde since August 12th and has been influencing your communications sector, dear Cancer. Today, Mercury moves back into your sector of assets, money, and resources for a short while. This is a time for a review of your finances or budget, and perhaps something lost or misplaced. You may need to rethink recent decisions and choices or wait for final word on a matter. Mercury retrograde periods often have us feeling in limbo, and at this time for you, this could be about money or possessions (material things). Mercury continues its retrograde until September 5th, and then finishes up its transit of this sector of your chart on the 9th. A new perspective on a matter can turn your attention to something you overlooked in the past. Today can be a little tricky on social levels. A disconnect with someone can lead to misunderstandings. You may see things for their flaws more than their benefits today, but this can serve a useful purpose if you use it to fix problems rather than dwell on what's not working out in your life. With a little patience, you'll see things more clearly and reasonably.
Leo
Retrograde Mercury slips back into your sign today, dear Leo. Mercury turned retrograde on August 12th in the sign of Virgo and is now retreating into your sign. Until September 5th, Mercury remains retrograde in your sign and then finishes its transit of Leo by September 9th. This can be a time for moving back to an old conversation, project, look, or decision and revisiting it. Someone who has been gone or distant can reappear in your life. Communication problems could plague you in little, annoying ways in the coming week. Some personal plans may stall or encounter setbacks, delays, or require reassessment. Take extra time coming to decisions and making commitments for the time being. If it takes you a little longer to come to decisions, so be it! There could be stinginess with feelings or a withholding atmosphere later today, but it has roots in fear and the misdirected desire to feel more in control of our lives. You could feel restricted now, but problems and flaws are magnified in your mind today, and things will look better later. Creatively speaking, your confidence may be lacking. You'll find the most satisfaction in your work and routines now.
Virgo
Mercury, moving in retrograde motion, leaves your sign today, dear Virgo, and slips back into the sign of Leo, where it will stay until September 9th, although it will remain retrograde only until September 5th. This turns your thought processes inward, even more so. Some of the decisions made and projects started in the last month can come up for review now. You can be even more mysterious and easily misunderstood! However, you will be out of the spotlight now, and this helps take some pressure off. Decision-making can be difficult in the coming week as you play with different possibilities. Your mind can frequently turn back to the same problem that's hard to resolve. Also today, when it comes to relationships and social interactions, there can be some disconnects. Calmness and a little detachment will help manage this. Relationships feel slow, and creativity can feel blocked. Use this time to reflect on your needs and the needs of those closest to you, rather than trying to push things forward. Obstacles are sometimes necessary, not only because they can give us pause to think, but also because they help us to see the value of things, and even people!
Libra 
Mercury, moving in retrograde motion, slips back into your solar eleventh house today, dear Libra, where Mercury will transit until September 9th (in retrograde motion until September 5th). Some of the seeds you recently planted related to friends or long-term goals are likely to need review or revision. Friendships can be a little trickier to handle now, although they'll pick up speed after the 5th. Watch for missing information or fuzzy thinking. Returning to past issues with a friend is very possible you'll need to approach things differently to get different, satisfying results! Today holds some iffy energy related to family and friends. Disconnects in your relationships are possible now as someone is holding back perhaps due to fear of rejection. This is not the best time to lay your heart on the line. If you don't feel ready to make a decision, you're probably right to sit on the fence for a while longer.
Scorpio
Retrograde Mercury moves back into your solar tenth house today, dear Scorpio. Mercury will transit here until September 9th, but will be retrograde only until the 5th. This period may bring some confusion to business plans. It's a good time for review, but not the best period for clear-cut answers and obvious, spelled-out-for-you direction. Reconsider things, but wait it out before making final decisions, if possible. If you're going over the same old ground, be sure to do so a little differently so that you get better results. Watch that you don't misrepresent yourself with what you say (or don't say). Keep in mind that today you are seeing situations and people from a place of fear or worry, which can distort your perceptions. Knowing why you're doing this can help you keep your perspective. You may feel the need to guard against people who aim to take credit for your ideas or work. Things will look much rosier tomorrow as you let go of inhibitions a little.
Sagittarius
Mercury, still retrograde, slips back into your solar ninth house today, dear Sagittarius, and backtracking continues but now in different ways. You may need to review travel or educational plans, or there can be some mix-ups that introduce delays into your life. After Mercury ends its retrograde cycle on September 5th, these things will gradually clear up and straighten out. For now, taking a look back at recent decisions and choices may be particularly useful. New information will emerge later. Check your facts before expressing your opinions too forcefully, as information you receive may not be complete before the 5th. Today, interpersonal communication problems are likely, so be sure that you are very clear, leaving very little up to the imagination. However, it's also wise to consider that fears or rejection are strongly at work just under the surface of things right now, so others' emotionally distant behavior may not be a cause for serious concern. There could be pangs of separation or discontent. Try not to stress over actions (or inaction) by those close to you. Recognize that your emotional needs for support are stronger than usual, and not everyone is in sync with this energy.
Capricorn
Mercury is still retrograde – a cycle that began August 12th – but today slips back into the sign of Leo and your solar eighth house, dear Capricorn. You may need to review recently made financial commitments and shared resources, or intimate relationships. Power dynamics can change quite dramatically in a partnership. Try to use a different approach and look at old problems from a new angle or perspective. If they're re-emerging, then they need to be put to rest another way. Focus less on the details or facts and more on the bigger picture or what it all means for best results whenMercury is retrograde, which it is until September 5th. Also today, there can be delays or withholding, but try to keep your head up. After all, they're likely to lead to greater appreciation for what you have or to what ends up materializing for you down the road. You may have to forgo a pleasurable activity to fill your duties. This orientation can be useful as you may very well need to pay particular attention to practical matters.
Aquarius
Mercury, still retrograde, slips back into your partnership sector today, dear Aquarius. Mercury has been retrograde since August 12th and will continue this apparent backward motion until September 5th. During this period, you may be returning to old problems or situations surrounding partnership matters, either personal or business. It's not the time to fence someone (or yourself) in. Give people space and hope that they return the favor. Communications can be muddled up for the time being, but delays can also help you to understand your needs and values more completely. There can be a tendency to see flaws and inadequacies under a magnifying glass today, especially our own! It may be that you need to slow down to get a better or more realistic view of your life. Reflect, be objective about your relationships, and get in better touch with what it is you truly want and value. Also be a little cautious with money until you see things more clearly.
Pisces
Mercury is still retrograde (since August 12th), dear Pisces, and while Mercury's been moving through your partnership zone, it today slips back into your work and health sector. This takes some of the scrutiny away from a partnership but could stimulate misunderstandings or the need to backtrack in your job. There may be some delays or returning to old problems related to your health, work, and daily routines. It can be difficult to see all of the facts before you so that schedules can quickly get out of whack, or projects you began in the last month need revision. There may be the need to review, redo, or double check your work. Today, there can be some negative thinking, withdrawal, or emotional distance in your interactions. This is likely not a symptom of a bigger problem but rather a day when we're more self-protective and cautious with our feelings than usual. Fortunately, you can plug away at your work or the things you need to do, and you can feel good about a job well done.
Courtesy of Cafe Astrology
Tarot Card of the Day
Seven of Swords
---
August 30th, 2017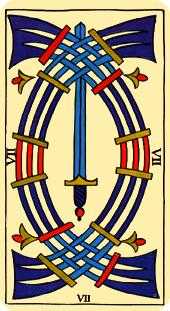 The Seven of this suit typically refers to mental preparedness, acquired through the use of imagination, including the rehearsing and visualizing of desired results. This card represents the positive mental habits of a natural winner. The image most often associated with this card is that of a canny warrior who has infiltrated into the enemy camp on the eve of a fateful battle, checking out their preparations and stealing their swords. Such a move is guaranteed to demoralize the enemy and undermine their performance in the upcoming confrontation.
Putting it in modern terms, one who draws this card needs to work smarter, not harder. Think long and deep, study all the angles and put yourself in the shoes of your competition. As a result, you will have such a thorough grasp of the whole situation that there will be no surprises — and no excuses for anything but success. Skillful preparation justifies the optimism of the natural winner.
Learn the Tarot: The Strength Card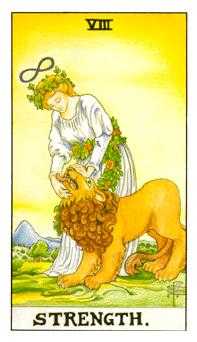 General Meaning
The Strength Tarot card represents nature, which, however wild in its primal form, is tamed by our subtler, finer self — our feminine side, our inner self. The will and passion of our instinctive nature does not need to be broken, but refined and brought to consciousness, so that all levels of creation may come into harmony.
The feminine soul-force contains a persuasive power that can nurture and induce cooperation from others, stilling disruptive energies by harmonizing differences in the spirit of collective good will.
In the Advice Position
Clearly distinguish between your ego and your intuitive self.
The card in the Advice position suggests a course of action which will harmonize what you want with what is currently possible.
The Strength card advises that you assertively discipline yourself and separate self interest from enlightened wisdom. Deliberately identify with your intuition, even if it works against the desires of your willful ego.
Demand and expect the same from others who have some power in this situation. You cannot challenge them to live to a higher standard if you, yourself, have not yet done so. Influence others by setting an example of integrity. Your self-esteem will increase to the degree that you succeed in your efforts.
Part of the Daily Insight Group ©2017
Daily Love Tarot Card
The Lovers
---
August 30th, 2017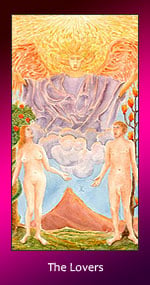 The Lovers
Today, The Lovers are fickle, promiscuous, or both. Because of that, they live for entanglements. Unless you are cautious, they can pull you in with them. Don't leave someone if your relationship has encountered a rough patch. Go only if you have tried everything and the relationship still isn't working for either of you. If you haven't tried, now is the time to give things another chance for either openness or for closure.
Daily Erotic Tarot Card
The Hanged Man
---
August 30th, 2017
The Hanged Man
Acceptance is the keyword of the Hanged Man, and with this card showing up it means you're out of moves, so to speak, which is kind of nice because now the games can stop and you can get down to the real nitty-gritty. Your sexual partners aren't perfect and neither are you, but you can still have a lot of fun together. The Hanged Man may not be in the best position, but he certainly makes the best of it – and this card urges you to do the same when it comes to your sex life.
Psychic Tip of the Day
August 30th, 2017
LOVE AND TRUST
While your lover's secrets are safe with you, make sure that trust is given freely, not earned. Will you be loved for who you are or what you have accomplished?
Part of the Daily Insight Group ©2017
Your Crowley Thoth Tarot Card for Today
Art


Art denotes balance and harmony. The forces behind Art are those that keep us from succumbing to temptation or over-indulgence; steer us away from developing unhealthy addictions or behaviors. The Art driven Spirit avoids extremes, spreads harmony and brings opposing sides together. They find a happy, healthy median between what they want and what they need. Art provides an environment in which most will thrive, and a haven where the injured may heal, reenergize. Through Art success and contentment are found by practicing self-restraint, and using balance to create your own "shelter from the storm.".
Your Daily Rune for Today
Fehu
"Fay-Who" – Literally: "Cattle" – Esoteric: Mobile Property, New Beginnings, Wealth
Key Concepts: Wealth, money, food, sustenance, Hamingja, luck, personal power, circulation of power,  financial strength, prosperity
Psi: Beginner's Mind, presence, freedom, first impressions, young love
Energy: mobility, luck, charisma, dynamic power, liquid and mobile transferable energies, abundance, circulation, 'mana', sexual attraction
Mundane: money, recent purchases, reputation, freshness, fashionability
Divinations: New beginnings, social success, foresight, energy, travel, money, control; or greed, failure, atrophy, poverty, endings.
Governs:
Delegating your energy to another, power transference or projection; the sending rune
Drawing gravity into the personal sphere
Promotion of personal and social evolution, changing circumstances of importance
Increase in personal monetary wealth
Beginner's mind and presence as a tool for consciously creating a fresh start
Your Ancient Symbol Card for Today
The Western Dragon

Unlike the beneficent Easter Dragon, The Western Dragon is a symbol of totally unleashed destructive power that is set upon anyone who crosses the Dragon's path. The Western Dragon also hordes treasures that should rightfully be ours, and whose absence deprives us from being complete. The challenges set before us by the Western Dragon are truly prodigious, because they denote a force whose sole intent is not simply to keep us from moving forward in our lives, but to usurp all that we have previously gained as well. What is even more disturbing about the force behind the Western Dragon is that it may well indicate primal forces in ourselves so powerful that they do in fact turn us into our own worst enemy.
As a daily card, The Western Dragon is a powerful negative force intent upon thwarting your progress. In such a short time frame it is most likely you're being undermined by an external force–someone who wants what you have gained or gains your are near realizing. While formidable, this bellicose entity does have vulnerabilities. First, there is nothing subtle about the forces represented by The Western Dragon, so the source will be easy for you to identify. Secondly, The Western Dragon represents undisciplined, primal energies that aren't easy to control, so they are susceptible to logical responses steeped in self control. In short, don't panic, act deliberately and decisively, and you will weather this storm
Your Animal Spirit for Today
August 30, 2017
Fox
Fox medicine represents the ability to blend in. She can change colors to blend with the seasons—becoming almost invisible against a backdrop of snow or foliage. Fox also has an amazing sense of smell that enables her to sniff out dangerous situations. Be like a Fox—street smart and safety savvy—don't call attention to yourself as today is a day of watch and wait.
Your Charm for Today
Today's Meaning:
Guests and visitors will come calling. Their visit brings happiness and joy. This aspect will reflect these emotions for weeks after the visit.
General Description:
Crescents were worn by the ancients to safeguard them against witchcraft and danger. From the very early Eastern symbole, horseshoes came to be regarded by the Greeks and Romans as charms against sickness and the plague. In the middle ages horseshoes were used as amulets for witchcraft and even today are looked upon as lucky. When the representation of the hand of strength was worn with the crescent it signified hospitatlity and generosity. Hands of Might are painted on houses in Italy, Syria, Turkey and in the East to protect the buildings from misfortune and the inmates from death. The blue beads were worn to avert the evil eyes.
Crack the Cookie
The Wisdom of the Buddha
To enjoy good health, to bring true happiness to one's family, to bring peace to all, one must first discipline and control one's own mind. If a man can control his mind he can find the way to Enlightenment, and all wisdom and virtue will naturally come to him.
Your Earth Sky News for Wednesday, August 30 – Closest far-moon of 2017 on August 30
Tonight – August 30, 2017 – the moon is quite close to the planet Saturn on the sky's dome, and it's also at or near apogee – the moon's farthest point from Earth in its monthly orbit. The apogee on August 30, 2017, has the distinction of being the closest apogee of 2017, making tonight's moon the closest far-moon of 2017.
Wait … what? Closest far-moon. Yes, on August 30, 2017, at 11:25 UTC, the moon reaches apogee – its most distant point in its monthly orbit. But this apogee is the closest of the 13 lunar apogees that occur in 2017.
At this month's closest apogee, the moon lies 404,308 km distant. Contrast this with the farthest apogee of the year on December 19, 2017, when the moon will lie 406,603 km away. The mean apogee distance is 405,504 km.
The moon is also near first quarter phase now. First quarter moon happened the day before this month's lunar apogee, on August 29. It's no coincidence that the first quarter moon – and closest far-moon – happen in close vicinity of one another.
In any year, it's either the first quarter moon or last quarter moon that closely coincides with the year's closest apogee. Next year, in 2018, the closest apogee of the year (404,144 km) will happen when the last quarter moon and lunar apogee fall within a few hours of each other on April 8, 2018.
Often – but not always – the year's closest apogee will recur in a period of 14 lunar months (14 successive returns to the same phase). That's because 14 lunar months is nearly commensurate to 15 returns to apogee.
14 lunar months x 29.53059 days = 413.428 days
15 returns to apogee x 27.55455 days = 413.318 days
This 413-day period is approximately equal to one year, month month and 18 days. And, guess what? Fourteen lunar months lunar after 2018's closest apogee on April 8, 2018 (404,144 km), the following year's closest apogee will fall on May 26, 2019 (404,138 km). Then 14 lunar months after the year's closest apogee on May 26, 2019 (404,138 km), it'll be the year's closest apogee on July 12, 2020 (404,199 km).
Today – August 30, 2017 – the lunar apogee distance of 404,308 km presents the closest apogee of the year.
Lunar perigee and apogee calculator
Moon at perigee and apogee: 2001 to 2100
Phases of the moon: 2001 to 2100
Enjoying EarthSky so far? Sign up for our free daily newsletter today!
Bottom line: The closest far-moon of 2017 happens on August 30. The year's closest far-moon often takes place in the month that the quarter moon and apogee most closely align.
EarthSky astronomy kits are perfect for beginners. Order today from the EarthSky store
Bruce McClure has served as lead writer for EarthSky's popular Tonight pages since 2004. He's a sundial aficionado, whose love for the heavens has taken him to Lake Titicaca in Bolivia and sailing in the North Atlantic, where he earned his celestial navigation certificate through the School of Ocean Sailing and Navigation. He also writes and hosts public astronomy programs and planetarium programs in and around his home in upstate New York.
Article published on EarthSky
A Little Humor for Your Day
Learning your ABC's for Witches and Pagans
To learn your letters you must start
With a clever mind and a willing heart
Each one is special, just like you
And you will learn them all by the time we are through!
A is Athame, the knife that we use
B is for Beltaine, when partners we choose
C is for Circle where we all are one.
D is for Deosil, path of the Sun.
E is for Esbat, when we gather round
F is for Fire and its crackling sound
G is the Goddess in beauty and love.
H is the Horned One, our Father above.
I is for Imbolg, candles light the way,
J is for June when it's Midsummer's Day
K is for Karma, the things that we do
L is for Lammas, harvest's almost through!
M is for Moon, riding way up so high,
N is for Nighttime, which darkens the sky
O is for Ostara, when we hunt for eggs,
P is for Pan, with hairy goat legs
Q is the Quarters and there are just four,
R for the Rites when we open the Door
S is for Samhain, end of the year,
T is for Tarot cards, futures to hear
U is Undines from the watery West
V is Vervain for protection and rest
W's Widdershins, the path of the moon.
X is the sign that's the sign of the God
Y is for Yule and the sun's return
Z is the Zodiac, 12 signs to learn
To learn them all you will have to try
And now it is time to say goodbye
Merry have we met, and Merry have we been
Merry shall we part and Merry meet again!
––Author Unknown
Have a very blessed day, my witches!
Lady of the Abyss
For All Your Magickal Needs, Think Magickal Necessities!