The Witches Digest No. 8
Monday, July 24th, 2017
Let There Be Peace
Oh, Mighty and Powerful Goddess,
we humbly come to you are your children.
Children who not only need your guidance
but our world does also.
Our world has plunged into madness it seems,
we beseech you, Great Mother, to intervene.
Let Your Love, Joy and Happiness shine down
upon us once more,
let us remember we are all Your Children,
Brothers, Sisters, Fathers and Mothers.
Most of all let us remember how sacred life is.
Restore the humanity in all those who have
seemed to have lost it.
Let them value life once again and see the
errors in their ways.
Life is a Divine gift granted by you and should
be treasured, respected and never harmed.
Let this passion for life burn in each and every
heart on this planet.
Let it burn so deeply that another innocent life
be taken,
Let the violence end, Mighty Mother,
Let peace resign supreme once again, Divine Goddess.
Let Your Peace & Love Rule the Day.
So Mote It Be.
—Lady of the Abyss
The Sun & Moon Data for Monday, July 24th
The Sun
Sun Direction: ↑ 97.34° E
Sun Altitude: 43.12°
Sun Distance: 94.425 million mi
Next Equinox: Sep 22, 2017 3:01 pm (Autumnal)
Sunrise Today: 5:53 am↑ 64° Northeast
Sunset Today: 8:08 pm↑ 296° Northwest
Length of Daylight: 14 hours, 14 minutes
The Moon
Moon Direction: ↑ 91.94° E
Moon Altitude: 26.80°
Moon Distance: 228568 mi
Next Full Moon: Aug 7, 20171:10 pm
Next New Moon: Aug 21, 20171:30 pm
Next Moonset: Today9:12 pm
Current Moon Phase: Waxing Crescent
Illumination: 2.1%
Lunar Calendar
Moon Phase Tonight: Waxing Crescent
First Quarter: Jul 30, 2017 at 10:23 am
(Next Phase)
New Moon: Jul 23, 2017 at 4:45 am
(Previous Phase)
Source
Your Astronomy for Monday, July 24th
The Moon is in Leo.
The Moon is waxing and in its New phase.
The New Moon occurred yesterday in the sign of Leo.
Mercury enters its pre-retrograde shadow today (Mercury will be retrograde from August 12-September 5).
Moon in Leo
The Moon is traveling through Leo today. Shine and be proud! You rule right now!
The Moon in Leo speaks to our "inner child". It's a warm, generous, whole-heartedly loving position. Pride keeps us from pettiness, but it can also prevent us from opening up and revealing how we are truly feeling. We are on stage, our feelings are grand, and we appreciate some drama in our lives. We are easily threatened by anything that seems to be impersonal. This is a time when we seek attention–when we want to stand out for our special qualities. It's a strong time for romance and any creative activity as well.
The Moon in Leo generally favors the following activities: Creative activities, activities involving children, generous undertakings, undertakings in which personal recognition is desired, and risk-taking.
The Sky This Week for July 24 to 30
Constellations, a crescent Moon, and other cool things to look for in the sky this week.
By Richard Talcott
Monday, July 24
Grab your binoculars and scan just above the western horizon after sunset. There you'll find three bright objects that fit in a single field of view. Mercury will be the easiest to see. It shines at magnitude 0.2 and stands about 8° high a half-hour after the Sun goes down. The 1st-magnitude star Regulus in Leo the Lion lies 1° to the planet's upper left. And a slender crescent Moon just 4 percent lit hangs about 5° to the lower right of the close pair.
Tuesday, July 25
The waxing crescent Moon stands some 8° to the upper left of the Mercury-Regulus pair this evening. Nine percent of Luna's face appears lit tonight, and the greater illumination combined with the higher altitude make it much easier to see than it was yesterday.
Wednesday, July 26
By the time morning twilight starts to paint the sky, brilliant Venus already dominates the scene. The planet rises around 3 a.m. local daylight time and stands 10° high at the start of twilight an hour later. It's hard to mistake Venus for anything else — at magnitude –4.0, it shines far brighter than any other object in the morning sky. Although the view with the naked eye or through binoculars is dazzling, you also should point a telescope in the planet's direction. Not only does Venus show an 15″-diameter disk that appears nearly three-quarters illuminated, but this morning also offers a bonus: The planet lies less than 1° south of the Crab Nebula supernova remnant (M1).
Mars reaches solar conjunction at 9 p.m. EDT, when it lies on the far side of the Sun from our perspective. The Red Planet will remain hidden in our star's glare until it emerges into morning twilight in September.
Thursday, July 27
As an inner planet, Venus moves quickly relative to the background stars. After passing south of M1 yesterday, this morning the planet appears 0.4° north of the 3rd-magnitude star Zeta (z) Tauri, the southern horn of the constellation Taurus the Bull.
Friday, July 28
The waxing crescent Moon appears about one-third illuminated this evening, when it lies just 3° above brilliant Jupiter. The two lie about 25° high in the southwest an hour after sundown and look spectacular from then until they set after 11 p.m. local daylight time. Although the naked eye and binoculars show this conjunction best, a telescope delivers great views of magnitude –1.9 Jupiter all week. The giant planet's disk spans 35″ and shows a wealth of detail in its massive atmosphere.
Saturday, July 29
Mercury pops out of the twilight glow this evening as the sky begins to darken. The innermost planet lies 27° east of the Sun tonight, its greatest elongation for this evening apparition (the configuration officially occurs at 1 a.m. EDT on the 30th). Look for it 30 minutes after sunset, when it lies some 8° above the western horizon. The innermost planet should be fairly easy to spot because it shines brightly, at magnitude 0.3. (Use binoculars if you can't see it with naked eyes.) Through a telescope, Mercury appears 8″ across and slightly less than half-lit.
The Southern Delta Aquarid meteor shower reaches its peak overnight, but meteor rates remain essentially the same from July 27 to August 1. And with the nearly First Quarter Moon setting around midnight local daylight time, early morning viewing conditions should be ideal. The meteors appear to radiate from the constellation Aquarius, which rises in late evening and appears highest in the hours before dawn. At its best, the shower produces 20 to 25 meteors per hour under a dark sky, though the highest rates occur at tropical locations and in the Southern Hemisphere.
Sunday, July 30
First Quarter Moon arrives at 11:23 a.m. EDT. Our satellite won't rise until around 1:30 p.m. local daylight time, however, so observers in the Americas won't see it precisely half-lit. As darkness falls this evening, the Moon appears about 55 percent illuminated and resides among the background stars of Libra the Scales.
Venus' rapid eastward motion relative to the background stars carries it from Taurus the Bull into Orion the Hunter this morning. The planet will reside in this non-zodiacal constellation for only two days, however, and will cross into Gemini the Twins on August 1.
Source
Monday's Conjuring
Monday – is associated with the Moon
Candle colors – white or gray
Magickal Applications for the Day – Crossroads work to learn to read cards, dealing with family matters, Protection, Truth, Peace, Justice
—-Old Style Conjure Wisdoms, Workings and Remedies
Starr Casas, Author
Monday, July 24th
Monday is the sacred day of the Moon, personified as the Goddesses Selene, Luna, and Mani. The moon is ruler of flow, affecting the changeable and impressionable aspects of people. If a full moon falls on a Monday, then the powers of the moon are at their most potent.
Deity: Mani
Zodiac Sign: Cancer
Planet: Moon
Tree: Willow
Herb: Chickweed
Stone: Agate
Animal: Crab
Element: Water
Color: Gold
Number: 5
Rune: Lagu(L)
Celtic Tree Month of Tinne(Holly) – July 8 – August 4
Runic Half-Month of Ur (primal strength) – July 14 – July 28
Goddess of the Month of Kerea – July 11 – August 8
Source
The Pagan Book of Days
Nigel Pennick
On Monday, July 24th, We Honor the God Thoth
Thoth (pronounced Tote) is the ibis-headed god from Egypt who wore on his head both a crescent and a lunar disk. Thoth was believed to have regulated the seasons and to have helped keep the lunar phases on track. He was regarded as a magus, the greatest est of all magicians. Thoth was a fair and benevolent god of wisdom, astronomy, and practical skills, and he presided over education and books. He was a patron deity of the scribes, and his protection included written medical and mathematical knowledge. Thoth had a wife named Sheshat, and her title was Mistress of the House of Books. Sheshat was a goddess of writing, stars, books, history, and invention. She was depicted as a woman with a star on her brow who wore an inverted, or horns-down, crescent moon on her forehead. Thoth is a powerhouse of magickal power and wisdom. Try calling ing on him on a Monday night and see what he has to teach you.
Source
Book of Witchery: Spells, Charms & Correspondences for Every Day of the Week
Ellen Dugan
The Witches Guide to Mondays
In the word Monday, we can see part of the word Moon. In the romance languages such as Italian or Spanish, this day of the week is called Lunes and clearly relates to the word lunar. On Mondays, a variety of magick may be worked. Because Monday centers on the energies of the Moon, things like dreams, feminine energy, health, success in spiritual pursuits, domestic matters, and things of family origin are especially important this day.
Mondays are best for love magick and anything concerning home or family, thus old saying, Mondays child is fair of face, which seems clearly to relate to the themes of love and health.
Angels of Monday are Gabriel, Arcan, Missabu, and Abuzaha. Arcan is known as the king of the angels of air and the "ruler" of Monday. Abuzaha (Abuzohar) serves Monday, and is very responsive to invocations and ritual magick. Missabu is a ministering angel of Arcan.
Check whether the moon is waning or waxing to determine what your spell will be. During waning moons, do spells to rid yourself of obstacles or for wisdom and protection. During waxing moons do magic for increase of any kind or to draw something into your life.
On Mondays, the best hour to work is moonrise. Get this information from your local newspaper, astrological calendar, or almanac.
Source
Witchery, Magick and Enchantment, All Surround Monday
Think for a moment on all of the witchery, magick and enchantments that you have discovered. Don't be afraid to adjust spells to suit your own specific needs. Any gentle, illusory, and dreamy charms and spells can be enhanced when you work on the day of the week that is dedicated to the moon. Mondays are a fantastic day to boost your psychic abilities and to tune in to your intuition and empathy. It also gives you the opportunity to work with a different lunar phase each and every Monday, which means in one month you could work four different types of moon magicks on Mondays. How's that for adding to your repertoire? You are going to have mad skills in no time at all.
So light up those lunar scented candles and add a little mystique to your outfit by wearing an enchanting lunar color. Wear your sparkling silver jewelry and maybe add a pair of dangling silver earrings or a pendant shaped like a crescent moon. Create lunar potions and philters; make a dream catcher and give it as a gift to someone you love. Burn some sandalwood or jasmine-scented incense today to inspire the glamour and magick of the moon. Slice up a favorite variety of fruit that is in season for a snack or share it with your love and enjoy his or her lunar and romantic qualities. Brew up a cup of chamomile tea, enchant it with a little moon magick, and relax and get a good night's sleep.
Most importantly, get outside tonight and watch the moon for a while. What phase is she in? What color was the moon as she rose? Why not start a journal and write down at what location the moon rises and sets for a few seasons? This is a great way to teach you to tune in and to become more aware of the moon and the influence that she pulls into our lives. Try calling on Selene for her magickal assistance, and call Thoth for wisdom and strength. Get to know the Norse Mani and the Latvian Meness. These gods of the moon have plenty to teach, and if you allow their influence to cycle through your life, you'll receive many blessings. Be imaginative, and create your own personal lunar magick and witchery. Go on….the moonlight becomes you.
Source
Book of Witchery: Spells, Charms & Correspondences for Every Day of the Week
Ellen Dugan
The Witches Almanac for Monday, July 24th
Gion Festival second Yamaboko parade (Japanese)
Waxing Moon
Moon phase: First Quarter
Moon Sign: Leo
Incense: Narcissus
Color: Silver
About the First Quarter Moon Phase
A first quarter moon shows half of its lighted hemisphere – half of its day side – to Earth.
At quarter moon, the moon's disk is half-illuminated by sunlight and half-immersed in the moon's own shadow.
We call this moon a quarter and not a half because it is one quarter of the way around in its orbit of Earth, as measured from one new moon to the next. Also, although a first quarter moon appears half-lit to us, the illuminated portion we see of a first quarter moon truly is just a quarter. We're now seeing half the moon's day side, that is. Another lighted quarter of the moon shines just as brightly in the direction opposite Earth!
A first quarter moon rises at noon and is highest in the sky at sunset. It sets around midnight. First quarter moon comes a week after new moon. Now, as seen from above, the moon in its orbit around Earth is at right angles to a line between the Earth and sun.
The Perfect Spell for the First Quarter Moon Phase
Ringing in the Muses Spell
Materials
5 small bells
1 yard each yellow, red, blue, green, and purple ribbon
Thread a bell on each length of ribbon, then tie the first four ribbons to tree branches in the order listed above, saying with each:
To ring these bells, all breezes blow
Carry their sounds both high and low
To wake the Muses from Their rest
Heed ye now this firm request
Then tie the purple ribbon to a branch, saying something like:
From East and South and West and
North
Muses hear me: now come forth
From South and West and North and
East
Inspiration now release
From West and North and East and
South Creative powers bud and sprout
From North and East and South and
West
Heed my call and this request
As these bells ring in the breeze
Let ideas flow forth with ease
Bring inspiration with the wind—
In constant stream without an end—
Unleash Your creativity
Muses, bring it now to me
Creative blocks will begin to dissipate within twenty-four hours.
Source
Everyday Moon Magic: Spells & Rituals for Abundant Living (Everyday Series)
Dorothy Morrison
Correspondences for Monday, July 24th
Day: Monday ( Moon-day)
Planet: Moon
Colors: Silver and White and Grey
Crystals: Moonstone, Pearl, Aquamarine, Silver, Selenite
Aroma: Jasmine, Lemon, Sandalwood, Moon Oil, African violet, Honeysuckle, Myrtle, Willow, and Wormwood
Herb: Moonwart
The sacred day of the Moon, personified by such goddesses as Selene, Luna, Diana, and Artemis. The Moon is ruler of flow affecting the changeable aspects of people. If a full moon falls on a Monday, its powers are at their most potent.
Magical aspects: peace, sleep, healing, compassion, friendships, psychic awareness, purification, and fertility Monday is ruled by the moon – an ancient symbol of mystery and peace. Monday is a special day for mothers as the cycle of the moon has long been associated with the female menstrual cycle. Those wishing to conceive a baby would be wise to try on a Monday as the magic of motherhood is strong and pregnancy is in the air.
This is the proper day of the week to perform spells and rituals involving agriculture, animals, female fertility, messages, reconciliation's, theft, voyages, dreams, emotions, clairvoyance, home, family, medicine, cooking, personality, merchandising, psychic work, Faerie magic, and Goddess rituals
The Energy of the Moon
Planet: Moon
Day: Monday
Color: Silver, white, light blue, purple
Metal: Silver
Associations: Childbearing and family life, purity and virginity, healing, wisdom, intuition
Home & Hearth Magick for Monday, July 24th
On Monday, casts for matters concerning the home, emotions and nurturing.
Planetary Influence: The Moon
Household Symbols: Silver platters and bowls, moon shapes
Color: White and Silver
Kitchen Spices: Lemon rind and wintergreen.
Source:
Cottage Witchery, Natural Magick for Hearth and Home
Ellen Dugan
Celebrating Legends, Folklore & Spirituality 365 Days A Year for July 24 – 30
July 24 – 30
Cheyenne Frontier Days
This six-day annual event is the remnant of the old Mexican-American American rodeo contests held in the American Southwest shortly after the Civil War. They flourished in Texas and by 1880 were nationally popularized by touring, circus-like extravaganzas ganzas such as Buffalo Bill Cody's "Wild West Show."
Established in 1897, Cheyenne Frontier Days has become an elaborate folk event and developed traditions of its own. For example, in 1987 the festival treated more than 30,000 hungry spectators to its free breakfast of pancakes, ham, and coffee. The batter for the more than 100,000 pancakes was mixed in a cement truck so that no one would have to wait in line for more than 20 minutes.
The food was prepared by the 390-member Cheyenne Kiwanis Club and included 3,600 pounds of pancake mix, 1,130 pounds of butter, 300 gallons of syrup, 2,800 pounds of ham, and 520 gallons of coffee. That year, people from more than 50 states and 20 foreign countries enjoyed breakfast during Frontier days. In addition to the great food, Frontier Days celebrates with old time rodeo contests that include trick-riding, riding, roping, bronco-busting, and pony races.
The Witches Current Moon Phase for Monday, July 24th
Waxing Crescent
Illumination: 2%
The Moon today is in a Waxing Crescent Phase. A Waxing Crescent is the first Phase after the New Moon and is a great time to see the features of the moon's surface. During this phase the Moon can be seen in the wester sky after the sun dips below the horizon at sunset. The moon is close to the sun in the sky and mostly dark except for the right edge of the moon which becomes brighter as the days get closer to the next phase which is a First Quarter with a 50% illumination.
Phase Details for – Monday, July 24, 2017
Phase: Waxing Crescent
Illumination: 2%
Moon Age: 1.22 days
Moon Angle: 0.53
Moon Distance: 372,508.77 km
Sun Angle: 0.52
Sun Distance: 151,956,155.08 km
Source
This Week's Astrology: Ironing Out the Wrinkles
Your weekly Astrology highlights for July 24-30, 2017
---
The road to romance might feel a bit rocky at the beginning of the week. Will things even out by Sunday? Here's what you can expect…
Monday, July 24: Venus opposite Saturn; Mercury trine Uranus
Matters of the heart are weighty this Monday thanks to Venus opposing Saturn. This is the time to remember that the things worth having don't come easily. Also on this day, Mercury will trine Uranus, compelling you to share your ingenious ideas with anyone who will listen.
Tuesday, July 25: Mercury enters Virgo
Mercury will enter Virgo on Tuesday, helping you to focus on the details behind all of your brilliant plans.
Wednesday, July 26: Sun conjunct Mars
On Wednesday, the Sun will conjunct Mars, giving you the most vibrant energy for pleasure. Your mind wants to work, but your body wants to have fun.
Sunday, July 31: Venus sextile Uranus
With Venus at a sextile to Uranus by Sunday, it looks like fun and pleasure will prevail.
Part of the Daily Insight Group ©2017
Your Weekly Love Horoscopes for Monday, July 24th
By Maria DeSimone
From Tarot.com
---
General Horoscope

Expect to feel tightness around your love life on Monday when Venus opposes Saturn. With this energy, it'll be difficult to get what you want out of love or from your lover. One of you is holding back and the other is not feeling the love. Fortunately, whatever romantic frustration you feel early in the week will disappear by Sunday when Venus is sextile Uranus. This brings a breath of fresh air and excitement to the possibilities in your relationship. Something has gone stale, and once you recognize that all you needed was to spice things up, you'll be on the fast track to happiness once more.
---
Aries Horoscope

Mar 21 – Apr 19

Early in the week you might feel intellectually shut down by your partner. He or she might express condescending remarks about an idea you have or a decision you've made. As a result, you might second guess yourself or begin to feel less secure about communicating to your mate. Don't let one or two critical remarks ruin what might otherwise be a positive relationship. If, however, you're feeling disrespected, it's time to say something. By Sunday you'll set the record straight.
---
Taurus Horoscope

Apr 20 – May 20

It's possible that you are carrying more of the financial burdens in your relationship, and if so, you may begin to resent it. Your sweetheart might be equally frustrated, because he or she is currently lacking the opportunities needed to move ahead. Another possibility is that your partner is not as financially responsible as you are, and you're growing tired of this dynamic. You need material security to be happy in a relationship. There's no point denying it. If it's lacking, so is your level of contentment.
---
Gemini Horoscope

May 21 – Jun 20

Romance might be a bust this week. No matter what you do to try and enjoy life with your mate, it appears that he or she is throwing a wet blanket over your plans. You might also feel less beautiful, valued, or appreciated early in the week. Another possibility is that your partner is going through a rough patch, leaving little opportunity for romance. If this is the case, you'll want to be there for your sweetheart. Flowers and candlelight dinners are useless if your lover is miserable.
---
Cancer Horoscope

Jun 21 – Jul 22

You might feel overwhelmed in your relationship this week. All of the necessary tasks that require attention seem to fall on your shoulders. Whether it's taking out the trash, picking up the dry cleaning, going food shopping, or anything else, you might begin to feel as if you're the one doing all the work in your relationship and your lover is reaping the benefits. If this is the case, you'll need to have an honest conversation with your sweetie ASAP. You can't go on like this.
---
Leo Horoscope

Jul 23 – Aug 22

Early in the week you might feel the heavy restrictions connected to your love life. Someone you are dating might have extenuating circumstances happening in his or her world that prevent the two of you from spending as much time together as you'd like. Or, it's possible that you recognize the love affair isn't working out as you'd hoped. If so, now is the time to cut ties and move on. You'll have the courage to do so on Wednesday. Then, set your sights on the future.
---
Virgo Horoscope

Aug 23 – Sep 22

Family obligations could get in the way of your happiness. You might want your partner to chip in and carry more weight around the house or help you take care of a relative that needs help. This may be especially critical this week because of a career-related opportunity you want to take advantage of. When your partner doesn't rise to the occasion, however, you'll likely be left feeling frustrated. After Tuesday, a no-nonsense conversation might help.
---
Libra Horoscope

Sep 23 – Oct 22

You might have far-reaching ideas about your love life and all its possibilities this week. Unfortunately, one of your siblings or even a cousin might rain on your mental parade. He or she may only be trying to bring you down to reality (from their perspective), but you'll see them as downright dream crushers. If you need advice about your love life, don't ask a sibling or cousin unless you're prepared to be deflated. Better yet, keep your ideas to yourself completely. By Sunday you and your lover will be on the same page. Isn't that what matters?
---
Scorpio Horoscope

Oct 23 – Nov 21

You might feel the crunch when it comes to finances early in the week. Your spouse or partner may be doing better than you financially, and offer to help make you whole again. While you'll be tempted to accept his or her generous offer, a part of you is uncertain. You don't want to feel as if you have somehow unbalanced the scale in your relationship by allowing your partner to get you out of this financial bind. If you're this concerned about it — find another way.
---
Sagittarius Horoscope

Nov 22 – Dec 21

Your partner wants to keep the harmony flowing in your relationship, but this week you may feel slightly unsettled. You could feel overwhelmed with personal responsibilities, and as a result, find yourself unable to meet your sweetheart in the romance zone. Fortunately it'll pass by Sunday, and you'll be ready to spice things up again. If you're single, you could meet someone unexpectedly. You might even be attracted to someone who isn't typically your type. Be open.
---
Capricorn Horoscope

Dec 22 – Jan 19

The insecurities you're holding inside about your love life — or lovability — might literally begin to make you sick. Consider that the origin of any illness might be unresolved fears or anxieties about a romantic situation. Are you shying away from opportunities to date, out of fear? Are you stuck in a bad relationship that makes you miserable? Are you afraid to talk to your lover about something that's bothering you? If you answered "yes" to any of these questions, you need to address it right away. Holding it in will only continue to make you feel unwell.
---
Aquarius Horoscope

Jan 20 – Feb 18

One of your friends might be a killjoy as you try to open your heart and feel the love with someone you've got a crush on. This pal might judge your relationship because in his or her eyes it's inappropriate in some way. Perhaps there is a major age difference or one of you is still going through a divorce. Do your best to determine if your friend is truly speaking up because he or she cares, or if this pal is simply being critical. Address accordingly.
---
Pisces Horoscope

Feb 19 – Mar 20

You might become extremely turned on by someone you meet at your local gym. There's something extra sexy to you this week about fitness, fun, and sweat. Even if you don't meet anyone at your gym, pay attention to other people as you're out on a bike ride, leisurely jog, or while you're participating in any sporting event. Romance is combined with fitness or sports for you this week … and your heart is guaranteed to beat faster for more than one reason!
Part of the Daily Insight Group ©2017
Your Daily Horoscopes for Monday, July 24th
Aries
An opposition between Venus and Saturn this morning points to the need to "get real" about a project's limitations, dear Aries, or you may be facing some delays or criticism for an issue or project that's close to your heart. Try not to fret over this — this aspect tends to produce the climate for some negative feedback! However, you might ultimately find it useful if you aim to deal with things maturely and positively. You might need to revisit and change the structure of a project, and this can be time-consuming, but you're ultimately making something stronger. Prioritize and listen to others but then tune into your heart and make changes that suit you. While something you say may lead to resentment from someone, you also have a Mercury-Uranus influence working for you now, and this is creative as heck! You are likely to come up with a breakthrough idea now, and a project or plan can move forward suddenly and happily. Although you have some difficulty choosing between a safe choice and a slightly riskier one, you can also enjoy some open, forward-looking conversations or news that inspires you. Learning a new method for your art or learning something about someone you love (or like a lot) can figure strongly now.
This morning, there can be a responsibility or a realization that slows things down, dear Taurus, or that dampens your spirits just for now. A partner's income or a loan matter can be an issue, disturbing your equilibrium or making you worry about whether you have enough. Or, there may be a limitation to what you're allowed to do that curtails indulgence or a purchase. You may feel opposed or blocked, or a person's jealousy may interfere with your life now. Slow down a little for best results. Fortunately, your thinking is innovative, and while your pursuit of independence can cause a few waves with loved ones, you can enjoy excellent conversations that open up a whole new world of possibilities. A home or private matter warms your spirits and pulls you out of a funk. Domestic plans can push forward. There may be a clearing of the air, or you could be seeing opportunities to put the negative elements of the past behind you. Conversations can be freeing and eye-opening.
Gemini
Venus in your sign opposes Saturn today, dear Gemini, and you could similarly feel blocked or opposed now. Duty and pleasure are at odds, or a responsibility puts a damper on your plans. You might need to attend to someone else's needs or address important issues in a relationship now. Draw on maturity and try to reach a compromise. If someone in your life seems overly critical, strict, unyielding, or cool, deal with the situation as you may, but consider that it may be best to meet someone you care about halfway and that you might, in fact, need some structure in your life. As frustrating as someone may be, partners have something to teach you about yourself now. Consider taking this "lesson" even if isn't in a pretty package. Fortunately, a Mercury-Uranus aspect active today helps you think positively and innovatively. New interests are exciting. Friends can inspire you to think creatively or might encourage you to try something new. Throwing yourself into a project or surrounding yourself with friends can be liberating.
Cancer
An opposition between Venus and Saturn this morning can seem to pit responsibilities against pleasure, dear Cancer, and can be a reminder of your duties calling, as much as you feel you need a break from them! You may come to a realization that pops your bubble in some way, but that ultimately gets you back on track. The desire to escape pressure and stress or to hide away is high these days, but right now, you may need to handle practical matters before you can justify a break. There can be some opposition or negative feedback to deal with now, but it's best to sort out what part is constructive and what can be safely ignored. A Mercury-Uranus transit helps you think positively. A new idea or method frees up your time or excites you. You may be entertaining ideas on practical, financial, or business levels that are breakthrough or otherwise pivotal. You can be valued for your ideas and intelligence now. Keep your mind open to new information. While not all ideas considered now will lead to something concrete, one of them might click into place.
Leo
This morning, you may find it hard to juggle your responsibilities and desires, dear Leo. If you pursue one, you feel pulled in the other direction. See-sawing can leave you feeling unsatisfied, but might ultimately lead to a fair compromise. Whether to do something yourself or call upon others for help, or whether to pay particular attention to a lover or a friend can be dilemmas now. Try not to focus too much on whether someone is slowing you down — or letting you down — and focus instead on what you can do to remedy the situation. It may be that you need to pour more attention to filling a responsibility before you can heartily enjoy a pleasure without distraction or guilt. Restructuring a project or dealing with limitations or criticisms can be annoying but ultimately strengthening. Fortunately, a Mercury-Uranus transit suggests talking or thinking things through leads to a greater feeling of freedom. You're communicating with more enthusiasm and courage. Look for new ideas and perspectives that excite and motivate you. You may be on the top of discoveries with something you're working on or studying.
Virgo
This morning, duties or delays can interrupt or slow you down from pursuing your plans or professional pursuits, dear Virgo. You may be enjoying your work more than usual these days with Venus at the top of your chart, but home life or personal matters can pull you away from these things. As much as you'd love to throw yourself into something special, you're likely to feel better once you take care of your priorities, after which you can come back to what truly makes you happy with less worry and better concentration to boot. Fortunately, a Mercury-Uranus influence turns your attention to positive news and ideas. In fact, you're particularly open to new ideas now, and this attitude can lead to fun and perhaps useful discoveries. Seeing something from the past in a more detached way can help you big time now! There can be a real feeling of purging or release involved with bringing something hidden to light.
Libra 
A hurdle comes in the form of a Venus-Saturn opposition across your communications sector this morning, dear Libra. This could mean you're dealing with time constraints or negative feedback that lead to some restructuring. Ultimately, you are in the position to strengthen something, whether this is an opinion, studies, a project, or a plan. Responsibilities to your daily affairs, errands, and other duties and tasks can suddenly increase or make themselves known, throwing a wrench in your plans. Your best bet may be to put in the extra work to get your duties out of the way, but consider that you'll be in a much better place to enjoy yourself once you do. A Mercury-Uranus influence today is excellent for collaborating, sharing ideas, and relating to others in liberating and peaceful ways. A bit of detachment can put things into perspective, particularly a relationship. People and networks can inspire new methods and ideas today.
Scorpio
A Venus-Saturn opposition can point to the need to deal with critical or insensitive people, dear Scorpio, although a bit of negative feedback may ultimately help you if you listen only to constructive criticism and discard the rest! Consider also that you're particularly sensitive now, seeking out security or reassurance at a time when others are focused on something else entirely. A financial constraint or disagreement may emerge now. The extra work that goes towards fixing mistakes can be truly worthwhile in the long term, however, so focus on adapting to any reality you need to face. A Mercury-Uranus influence, also active today, is good for exploring new ideas and possibilities related to money and business or work and health. The discovery of a new method can free your mind or possibly free up some time. Your ideas or intelligence might receive particular attention now. You're getting over a hump or a problem area. With this positive energy, you'd rather think about the future than dwell on the past.
Sagittarius
You have a stronger need for companionship or approval and support from others in your life these days, dear Sagittarius, but today, your insecurities or fears, and possibly your plans, can interfere. With Saturn in your sign, you often handle problems on your own and/or in your own way, and this runs at odds with your urge to merge. If others seem irresponsible today, you could feel frustrated that you're left to deal with the practical side of things. Attempting to restrict others is not the way to go, so do what you can to meet them halfway, perhaps by loosening up a little and hoping they take you a bit more seriously. A Mercury-Uranus transit, also active now, can help lift you above small concerns, and leads to the exploring of creative or unique topics to think or converse about. Travel, romantic, or creative opportunities can be opening up to you now, and it helps to allow yourself time to do some musing and free-form thinking.
Capricorn
A Venus-Saturn opposition occurs across your health and wellness sectors today, dear Capricorn. You're taking pleasure in your work and routines, but delays, setbacks, time limitations, or responsibilities to others can pull you away from the fun. Past mistakes or unfinished business can surface now, and the effort needed to correct or complete these things can be significant, or at least seem that way. Recognize the need to let something go or to make changes in existing projects to go forward in improved ways. A Mercury-Uranus transit, also active today, helps you detach yourself just enough to pull you out of a funk. You might release yourself from a burden or a secret, clear the air, or talk through a problem and feel relieved or even liberated for doing so. When it comes to family and intimate relationships, focusing on the future makes more sense to you now than bringing up the past, and this is the major key to success now.
Aquarius
Venus in your pleasure sector these days can ignite your passion for a hobby, pastime, person, or project, dear Aquarius, but Saturn's opposition to Venus this morning may serve to remind you of areas you've ignored in the process, particularly if you've been going overboard. Some of you could feel a bit put off by a friend now, or there can be worries if a friend seems to be ghosting you or doesn't seem as into you as you'd like. You may simply need to give in and deal with facts and figures or practical matters before returning your attention to the things you actually want to accomplish. If there are criticisms to face, take what's constructive from it and use it to firm up your life in fundamental ways — ignore the rest (and the delivery). Fortunately, a Mercury-Uranus trine helps you rise above things, and also stimulates your curiosity. You can bring a new light or perspective to a problem. It's, in fact, an excellent time for coming up with a solution to a nagging problem with a partner, or for learning something new and helpful about someone significant in your life.
Pisces
This morning, you may get a sharp reminder of a responsibility that keeps you from the rest, comfort, and peace you've been craving, dear Pisces. A Venus-Saturn opposition wants to bring back some balance to your life, and if you've been overdoing pleasures and comforts, now is a time for a bit of a "calling out." This ultimately serves you well, even if it's irritating or limiting right now. Saturn's lessons are usually about putting in an effort so that you take better care of yourself and things you love in the long term. Responsibilities or problems that have been neglected or overlooked in the past have a way of surfacing now for your immediate attention. Authority figures, teachers, parents, or bosses may have feedback you don't want to hear now. A Mercury-Uranus trine also active today can point to excellent conversations that open your mind and free you from certain burdens and frustrations, however. It serves to enliven relationships, and it also leads to successful new methods and ideas related to work and health. Unusual and exciting elements on the job or in your daily routine can be in focus.
If You Were Born Today, Monday, July 24th….
You are security-conscious and practical, yet also enthusiastic about moving forward and open to new ideas. Both a dreamer and a planner, you will pursue your vision if you have a clear and reasonable plan. Others often turn to you for advice, and they value you for your input. In group settings, you tend to naturally and quietly lead. You attract–or you're attracted to–people who need help or who are misunderstood, so that your love life can be quite colorful. You are comfortable and communicate well with people from all walks of life, young or old.
Famous people born today: Amelia Earhart, Jennifer Lopez, Barry Bonds, Zelda Fitzgerald, Anna Paquin, Elisabeth Moss, Chris Sarandon.
Get A Jump On Tomorrow…..
Your Daily Horoscopes for Tuesday, July 25th
Aries
While you've been very focused on injecting more fun or romance into your life recently, dear Aries, the Moon moves into your work and health sector this morning, and you are geared up to get some sorting and organizing done. Mercury enters this same sector today, but while the Moon stays here for just over two days, Mercury stays until August 31st and then again from September 9-29. This gives you plenty of time to take care of business. It's an excellent period for attention to details, running errands, and organizing your work and routines. If you need to brush up on skills or gain specialized knowledge, this is an excellent period for doing so. The technical side of a topic can be appealing now. You may do some information gathering related to diet and health. Crafts, writing, specialized disciplines, and services can thrive now. Watch for a tendency to over-analyze, criticize, or worry about health.
Taurus
The Moon moves into your creative sector this morning, dear Taurus, and you can be in the mood for some fun and games. The next couple of days are excellent for letting the child within come out to play. Mercury also enters this sector of your solar chart today, but while the Moon stays here for just over two days, Mercury will be here for over a month. In the weeks ahead, you take a greater interest in games, creative expression, the technical side of creative projects or art, and craftsmanship or hobbies. Intellectual creativity can be in strong focus in the coming weeks. Romance with someone younger can be in focus for some of you now. Relationships can be very verbal, and others are likely to find your ideas particularly appealing.
Gemini
The Moon moves into your home and family sector this morning, dear Gemini, awakening a need for extra rest, time at home or with loved ones, and familiar places and faces. Mercury moves into this same sector, and while the Moon stays here for just over two days, Mercury will influence this area of your solar chart for over a month. This can mean you're talking and thinking about (and with) family far more than usual in the coming weeks, or there can be more activity (primarily mental) in your home environment. You tend to look at problems from their root or origin, and this means you may take a little more time to come to decisions, but when they do come, they're likely to be well-considered ones. You can be doing more reflecting on emotional issues from the past and your relationship with parents and siblings. This is more than mere reminisce — you're inclined to want to sort things out and make sense of everything.
Cancer
The Moon moves into your sector of communication this morning, dear Cancer, and for the next couple of days, you're particularly interested in talking and thinking about your feelings and attachments. Mercury moves into this same sector but for a longer stay — until August 31st and then returning from September 9-29. During these cycles, you're in particularly good shape for learning new things and brushing up on skills, connecting with the information you need or want, and making contacts. Your analytic ability and interest increase many times over during this transit. You may very well discover a new interest or passion, and with Mercury's upcoming retrograde beginning on August 12th, this can be about rediscovering a past interest and reviving it. This can be a time when you're particularly curious, and you seek out variety. Gossip and news can be in stronger focus. For some, this can be a time of extra media contact.
Leo
The Moon enters your solar second house this morning, dear Leo, and while in many ways you are feeling spirited and independent, this two-day transit is good for catching wind and grounding yourself emotionally. Mercury also moves into this sector of your solar chart today but will spend much longer here — until August 31st and then again from September 9-29. This is a fabulous time for sorting out your financial affairs and business matters. The second house reflects your talents and potential sources of income, and Mercury here finds ways to put these resources to good use. You may be able to make money through communicating, teaching, publishing, and connecting. This is a time for clarifying your financial position and, on another level, your self-worth or fundamental values. It's a time for working smartly and for great resourcefulness.
Virgo
The Moon moves into your sign this morning, dear Virgo, adding more color to your emotional life and motivating you to connect with others and express yourself. Mercury also moves into your sign today, but while the Moon stays here for only two days, Mercury will be in Virgo far longer: until August 31st and then again from September 9-29. This transit gives you a stronger voice and a bigger reason to want to express your ideas. You'll be making more executive decisions, and you're likely to find decision-making far more clear-cut in the weeks ahead, although Mercury's upcoming retrograde period (starting August 12th in your sign) suggests some hesitancy or looking back is in order. This is an inventive time when others notice you for your intelligence, wit, versatility, adaptability, and good humor. News and things you read or learn now affect you more powerfully than usual.
Libra 
The Moon moves into your sector of privacy, retreat, and reflection this morning, dear Libra, and this is a time for catching your breath, looking back, and doing some important thinking. Mercury's move into this same sector today elevates and extends these themes for many weeks ahead. In fact, Mercury's transit of this sector of your solar chart lasts until August 31st, and it returns from September 9-29. Your imagination is keen during this cycle, and you're seeing ordinary things a little differently at this time of the year — from an emotional or intuitive perspective. You might benefit from extra time spent alone or in private for mental tasks such as writing, reading, or contemplating. Talking with people anonymously or about private matters may figure strongly now. For some of you, it can be a time for wrapping up a significant project.
Scorpio
The Moon enters your social sector this morning, dear Scorpio, and as much as you're focused on achievement and accomplishment, you can benefit from a brief change of focus. This is a good time for spending time with friends or in situations where you don't feel any pressure to perform, as this can refresh you. Mercury also moves into this sector of your solar chart today, and while the Moon spends just over two days here, Mercury will stay longer — over a month. Your thinking is progressive and inventive during this cycle. It can be an excellent time for objective thinking and decision-making. Communications with friends, associates, or groups increase. There can be a stronger mental focus on long-term happiness goals, your social life, and your contributions. Others are especially interested in your ideas and input.
Sagittarius
The Moon moves to the top of your solar chart this morning, dear Sagittarius, and you can be particularly invested in your work, reputation, or long-term goals today and tomorrow. This is a time for assessing your performance and looking for ways to improve it, if necessary. Mercury also moves into this sector of your solar chart today and will stay there much longer than the Moon — until August 31st and then from September 9-29. This is a time for smart planning or for making full use of your ideas and intelligence to get ahead in your career. It can also be a time for more activity with the public. You may be doing more communicating, commuting, and information gathering in your career, or you may gain recognition for your ideas and advice. Networking can thrive, but it's also important to note that your words have more impact at this time, so choose them carefully!
Capricorn
The Moon moves into your solar ninth house this morning, dear Capricorn, and this serves to pull you out of an introspective phase. You're inclined to want a change of scenery or a change of pace — or both! You're looking for a little more excitement than usual. Growing something, whether it's a business, project, a perspective, or your mind, is especially attractive right now. This Moon transit lasts just over two days, but Mercury moves into this same sector today and will influence you for far longer — until August 31st and then again from September 9-29. It's a beautiful time for teaching, disseminating knowledge, sharing ideas, broadcasting, publishing, and otherwise spreading the word. You have a stronger sense of future trends during this cycle. You're inclined to look for new interests or to broaden your knowledge now.
Aquarius
The Moon moves into your solar eighth house this morning, dear Aquarius, and while you've been more active and open with others these days, this brief, two-day transit suggests a need for more depth in your relationships and projects or the desire for more introspection. Mercury also moves into this sector of your chart today and will stay far longer — until August 31st. During this upcoming cycle, you're in a great position to think and talk through matters of sharing, finances, psychology, and intimacy. It's a wonderful time for researching a matter further or delving into a pet project and thoroughly enjoying the process and your discoveries! At times, you may be a little too focused on or even a bit obsessed with certain topics and ideas, but in moderation, this can be a powerful time for moving a project along or learning important things about yourself and your relationships.
Pisces
This morning, the Moon moves into your partnership sector, dear Pisces, at the opposite side of your solar chart, challenging you to see your life from a different perspective. A partner or good friend can be in stronger focus, and your desire for companionship or simply good company increases. Mercury also moves into this sector of your solar chart today, but while the Moon stays here for only two days, Mercury hangs out for far longer — until August 31st and then from September 9-29. This is a time for seeking out intellectual companions. Communications with others assume far greater importance in your life. It's a good time for counseling and advising, whichever side you happen to be on. You'll find that conversations with others tend to jumpstart your thinking processes.
Tarot Card of the Day
King of Coins
---
July 24th, 2017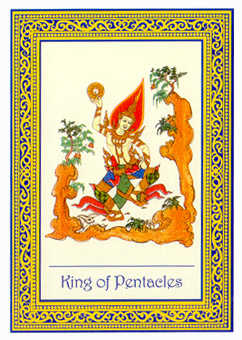 Representing the energy of a King, this card in the suit of Coins or Pentacles displays one who has accomplished a lot in life and has arranged his or her affairs so that he has much good to show for it. Possessing a practical genius in the ways of the world, he loves to build things. Because he's so good at deal-making, this character is privy to the biggest deals in town. He has the power to make or break people financially. Although this does not always win him love, it certainly earns him respect.
In previous centuries this card referred to the myth of Midas, who loved gold so much that he was cursed so that everything he touched turned to gold. One day his daughter reached out to him and was turned into a golden statue. This story illustrates the downside of letting material security take too much precedence.
While the character of this card understands the value of wealth, including the burden it produces, he or she is mature enough to keep things in perspective. Even though the suit of Coins represents the material realm, this King is not just a materialist — his sovereignty reflects higher values, as well as general welfare and prosperity.
Part of the Daily Insight Group ©2017
This Week's Tarot Card Reading
A one-card reading gives you a glimpse at what's coming
---
For the week of July 24, I chose the Three of Pentacles!
This week, leverage the power of teamwork. You're surrounded by people who are either experts in their field and are willing to help, or who are new and ready to learn.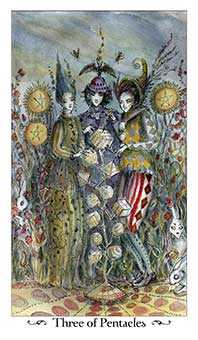 The more you can work with others, share knowledge, and combine your different skill sets, the more you can achieve. Even the biggest projects become much more achievable when you have the right people working on them. The key is to respect each person's unique contribution and find ways to move forward together.
Ask the Tarot: How can I work with others to see an important project through?
Part of the Daily Insight Group ©2017
Learn the Tarot 101: The Star Card
The Star
---
Rise above your day-to-day and connect with the divine.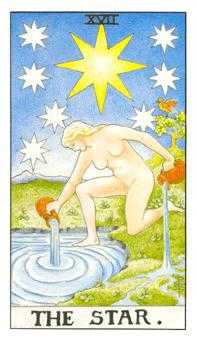 General Meaning
The Star Tarot card is about reconnecting one's soul with the divine — the transcending of personality, family, community, and reputation. It has to do ultimately with the freedom to be one's self. The soul is responding to celestial influences — forces that can provide the personality with a stronger sense of purpose. The Star card helps us to remember our exalted origins and our attraction to a higher union.
This card could also be called The Celestial Mandate — that which refers us back to our reason for being, our mission in this lifetime. The Star reminds us that, in a sense, we are agents of divine will in our day-to-day lives. If we let go of the idea that we are supposed to be in control, we can more easily notice and appreciate the synchronicities that are nudging us along. In this way, we become more conscious of the invisible helping hand, and we better understand our place within — and value to — the larger cosmos.
In the Advice Position
Your time is better spent in reflection and spiritual pursuit.
The card in the Advice position suggests a course of action which will harmonize what you want with what is currently possible.
The Star card advises that you rededicate yourself to your higher values, increase your spiritual cultivation and meditation practice, and surrender to the greater good. Connect to your higher self — a being of a larger realm traveling on an evolutionary course that started long ago and runs indefinitely into the future. This is the part you wish to contact and communicate with.
Now is a period for quiet contemplation. Listen for the voice within. Anything that would interfere with this communion may not be serving your best interests right now.
Part of the Daily Insight Group ©2017
Your Love Tarot Card
The Devil
______________________________________________
Monday, July 24th, 2017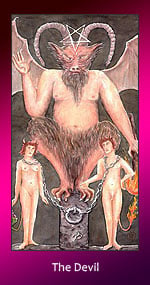 Do you feel caught between the 'Devil and the Deep Blue Sea?' This card represents insight and ability to rise above and to surmount obstacles in the way of love. The chains that bind the couple on the Tarot card are loose and symbolic of the ability to slip away if they want to. In this light, they are self-imposed limitations. Break free today if this sounds like your situation.
Your Erotic Tarot Card
The Sun
_____________________________________________
Monday, July 24th, 2017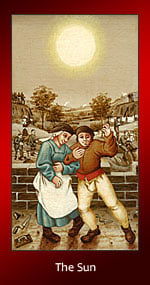 The Sun card shows that you may be feeling a little exposed and vulnerable as parts of your sex life are illuminated, but there is also an overwhelming feeling of warmth and positivity. Once you get over those self-conscious feelings, a wave of self-confidence replaces your fears. No one is out of your reach when the Sun is shining down on you. Embrace your power and don't be afraid to get naked both emotionally and physically!
Your Weekly Influences for the Week of July 24
Tarot Influence
The Seven of Wands
Courage will bring victory. Success seems certain
 
Astrological Influence
Capricorn
Capricorn denotes a drive to succeed through a pragmatic approach to life
Element Influence
Earth Reversed
Earth reversed denotes a lack of positive connection with the life spirit–a lost soul. If you are not careful you may miss much of what life has to offer you.
Your Daily Rune for Monday, July 24th
Algiz
(or Elhaz)
"Al-jiz" – Literally: "Elk" – Esoteric: Protection, Highe
Energy: protective teaching force, the divine plan, Valkyries
Mundane: protection, safety, spirituality
Divinations: Connection with the gods, awakening, higher life, protection; or hidden danger, consumption by divine forces, loss of the divine link, fear.
Governs:
Strengthening of hamingja (personal gravity, 'luck') and life force through courageous deeds
Mystical and religious communication with non-human sentient beings
Communication with other worlds, especially Asgard
Protection/defense
Receiving instruction on the magical potential of the runes
Banishing the fear of death
Your Karmic Number for the Week of March 24th
The number 4 means that you are building a strong foundation for your new ventures. Good job! Keep going – build the frame, put up the walls, roof, and seed the yard. It may not be an actual building you are working on, but the structure for your goals is becoming a reality. Taking the time, step by step, means that you have a foundation, protection, and beauty. Use strong people and resources so that you don't have to rebuild from scratch. In time, you will have a sturdy place to call your own.
The Wisdom of Buddha
The wise ones fashioned speech with their thought, sifting it as grain is sifted through a sieve.
Earth Sky News for Monday, July 24th: Go young moon hunting at dusk
Tonight – July 24, 2017 – find an unobstructed horizon in the direction of sunset, shortly after the sun goes down. If possible, perch yourself on a hill or balcony, so that you can view a bit more sky beyond your ground-level horizon. Then, as the twilight fades around you, search for the pale, whisker-thin waxing crescent moon near the sunset point on the horizon. You might try starting your search 30 or 40 minutes after sunset. Binoculars will come in handy! If you're lucky, you might also see the star Regulus and planet Mercury.
From mid-northern North American latitudes, the moon follows the sun beneath the horizon an hour after sunset. At more southerly latitudes, like those in South America, the moon stays out longer after sunset, so the young moon (and Regulus and Mercury) should be easier to spot from that part of the world.
Northerly latitudes in the world's Eastern Hemisphere might have to wait until after sunset July 25 for their first glimpse of the moon's return to the evening sky. But southerly latitudes in Africa (and possibly in Australia) have a decent chance of spotting the young moon after sunset July 24.
Click here for recommended almanacs; they can tell you the moon's setting time in your sky.
The moon turned new on July 23 at 9:46 UTC. At North American time zones, that places the new moon at 6:46 a.m. ADT, 5:46 a.m. EDT, 4:46 a.m. CDT, 3:46 a.m. MDT, 2:46 a.m. PDT and 1:46 a.m. AKDT. So the moon will be more than one and one-half days old by the time North American residents catch the young moon after sunset July 24.
After you catch the moon – or even if you miss the moon – try looking for Mercury and Regulus in the deepening evening twilight. We talk more about Mercury on our post for July 25.
Next month, in the United States, the new moon will actually pass right in front of the sun on August 21, 2017, to stage a total solar eclipse.
Bottom line: Tonight — July 24, 2017- and tomorrow night, enjoy the young moon's return to the evening sky.
Bruce McClure has served as lead writer for EarthSky's popular Tonight pages since 2004. He's a sundial aficionado, whose love for the heavens has taken him to Lake Titicaca in Bolivia and sailing in the North Atlantic, where he earned his celestial navigation certificate through the School of Ocean Sailing and Navigation. He also writes and hosts public astronomy programs and planetarium programs in and around his home in upstate New York.
Article published on EarthSky.org
Casting A Circle
All spells and rituals, however formal or informal, are based on a magical circle. This may be large enough for an entire group of practitioners to stand in, or it may be small enough to fit on your personal altar. I have known practitioners who have only a small area create a circle on a table-top and sit facing North, physically outside it but spiritually within, manipulating the symbols within it. I have also known modern witches who will create an instant circle on paper or even on a computer screen.
If you have the space, you can keep a magick circle marked out with stones in a corner of your garden or painted on the floor of a room covered with a large rug. Attics are especially good since you are nearer the sky. If you are able to keep a special area for your circle, scatter dried lavender or pot pourri on it before each use, and sweep it in circles widdershins to remove any negativity.
Whatever the form or size of your circle, mark the four main compass directions within it. In the marker positions, you can use stones, lines on the floor, four crystals hanging on cords on the four walls or candles in the appropriate elemental colours.
Once you know your directions, you can mark out your circle, beginning in the North (although some practitioners begin in the East), and working deosil. Draw your circle in one sweeping movement. You may wish to chant as you go.
If you are working in a group, or if this is a circle for a more formal ritual, you may wish to add god/goddess-power forms as an interspersed chant, with the voices of the group ebbing and rising in waves. You may wish to welcome the Archangels, or Guardians of the Four Watchtowers at the four compass points as you cast your circle. (The Archangels represent the celestial beings that feature in the cosmologies of the three main religions of the Western world -Christianity, Judaism and Islam). Alternatively, you may wish to call upon powerful goddess forms:
Isis, Ishtar, Cerridwen, Innana, Shakti, Yoruba, Danu, Kali and Aine, protect, empower and inspire this magical endeavour.
You can embellish the casting ceremony as much as you like, perhaps drawing pentagrams in the air at the four main compass points, and combining this with lighting the four elemental candles.
Some practitioners like to cast a circle and then welcome other members of the group to enter, sealing the circle with a diagonal up-and-down slashing movement of their power hand (the one they write with), or a wand or an athame. (An athame is a double-edged knife used in formal rituals. It represents Air and is placed in the East of the circle.
As well as drawing circles, it may be used to conduct magical energies into a symbol.) But I think it is more powerful if one person actually walks around the outside of a circle of people, enclosing them in light. In this way, the circle is created in human dimensions and is as large or small as is required by the actual formation. The circle made to fit the group is far better magically than the group made to fit the circle, for the group is the circle.
If you want to visualise a circle, use a clear, pointed quartz crystal, or wand, or the forefinger of your power hand, and draw an outline, in the air at chest level or on the ground. The circle extends wherever you draw it from the ground upwards to above your head like a wall of gold. Again, begin in the North, and continue in an unbroken, circular movement.
Remember, the circle is created with your own power, amplified if you wish by the sacred Guardians or powers you may invoke. For this reason, creating a light body and thus drawing energy from the ground, before casting the circle, is a powerful preliminary. Some practitioners, having drawn the light, extend then-hands upwards so that light from the cosmos can also enter. Do this before joining hands if you are creating the circle as a group.
In a conventional coven, the High Priestess casts and uncasts the circle, but you may prefer to allow
the person leading the ritual to cast the magical boundaries.
Casting A Dual Circle
You can create a dual circle if you wish.
* First consecrate the salt symbolising the Earth element in the North of the altar by stirring it three times with an athame, wand or crystal, and visualise radiance pouring into it.
* Stir the water, also three times deosil with the athame, wand or pointed crystal, asking the light and the Goddess to enter it.
* Add a few grains of salt to the water and stir it, saying:
May power thus be doubled,
thus increased,
as life joins life to create
a greater force even than these.
* Stand either just within or beyond the first circle perimeter.
* Walk deosil round the circle, sprinkling the circle line, physical or envisaged, with your salt water.
In formal rituals, the High Priestess consecrates the salt and the High Priest the water and they mingle them. The High Priestess then creates the first circle and the High Priest the second.
Casting A Triple Circle
Three is a sacred number in magick and for special ceremonies you can create a triple circle of both power and protection. The number three represents the three aspects of the god figure in many religions: the Holy Trinity, the Triple Goddess, the three aspects of the Moon -maiden, mother and wise woman or crone – the trefoil or triple god of the Celts, and the even older Egyptian trinity of Isis, Osiris and Horus, the young Sky God. This triplicity is still celebrated when we turn our money over and bow three times to the Moon for good luck.
* Create your first two circles of light and salt water.
* Return to the place where you began.
* Place the bowl on the altar and light your incense; you can either light a stick in a secure holder or sprinkle incense on a charcoal block burning within the censer.
* Make your final circle with incense, just beyond the lines of salt and water.
There are other variations of this, including creating your outer circle of light by walking with your candle in a broad-based holder, followed by the salt water and the incense.
Uncasting The Circle
When you have completed your spells or rituals, you should close the circle. This is done by simply reversing the casting process.
* Thank the Guardians and send the light of the elemental candles to whoever needs it.
* Extinguish the elemental candles in reverse order of lighting. Visualise the light fading and say, together with any present:
Let the circle be uncast but remain unbroken. Merry meet and merry part and merry meet again.
* Leave the altar candles to burn down.
For All Your Magickal Needs, Think Magickal Necessities……