Deity of the Day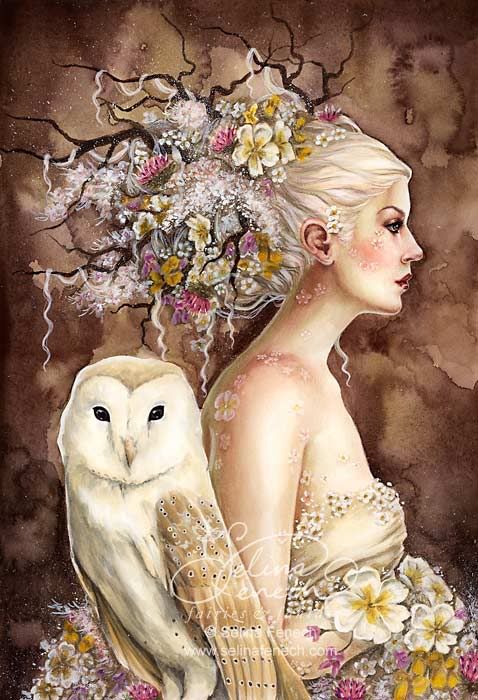 Blodeuwedd
Blodeuwedd (pronounced Blow-day-yoo-eth) is the Welsh Goddess of Flowers.
Mythology:-
After Lleu's mother, Arianrhod declared that he would never have a mortal wife, his two magician companions, Gwydion and Math began to work their magick. They formed a magickal, divine wife named Blodeuwedd for him out of 9 flowers. She was expected to of course marry him and be a loyal wife and though he loved her, she never loved him.
For three nights Lleu had left Blodeuwedd in charge of their… home and in that time a nobelman in need of a rest from his huntng activity took shelter there. His name was Gronw the Strong and the two fell in love.
Desperate to be free of her husband and marry her hunter love the two plotted to kill Lleu. After failed attempts Blodeuwedd tricked Lleu into revealing how he could be killed (only when special conditions were met was this possible).
After a year and a day of preparing for the right conditions Gronw made his attack on Lleu and wounded him; he did not manage to kill the God. Gwydion took defence of his foster-son and allowed Lleu to escape to heal. He killed Gronw and punished Blodeuwedd by turning her into an owl.
Spiritual Information:- Blodeuwedd is a Maiden Goddess yet this does not permit her to never having enjoyed the love of a man. She is independant in her body and choices, despite the bounds of an unwilling marriage. Even though she seems to be under the rule of man, by her creation, marriage, and punishment, she was there before Gwydion and Math invoked her. Her lovemaking with the Hunter and her connection to flowers ma…kes her the walking feminine spirit of the land. She is the embodiment of the Goddess in her many guises as shown by her multi-faceted personality.
She compliments Lleu in that he is the Light Eagle God of the Day, and she is the Dark Owl of the Night. She is mated to the God of the Light side of the year and the God of the Dark side of the year, mirroring the wheel of the year and the battle of the solstices; her double faces or light and dark reflect the Goddesses role in this.
She is the Maiden in her independance, youth, beauty and strength; the mother in her sexuality, love and lust; the crone in her cunning, death and the night owl.
In some cases Gronw the Strong can be seen as a manifestation of the Horned Hunter God Cernunnos and so it would be fitting to Couple Blodeuwedd with both he and Lleu.
Correspondences:-
* Owls
* Flowers
* Bright colours and Dark colours.
* Green
* Maiden Mother Crone
Offerings:-
* Flowers
* Floral Incense
* Bean, broom, burdock, meadowsweet, primrose, nettle, hawthorn, oak, and chestnut (flowers)
Festivals:-
* Celebrate and worship Blodeuwedd in any of her stages of maiden mother crone, at Imbolc, Beltane or Samhain. She can also be thought of at the solstices as her two men battle over her.
Source: