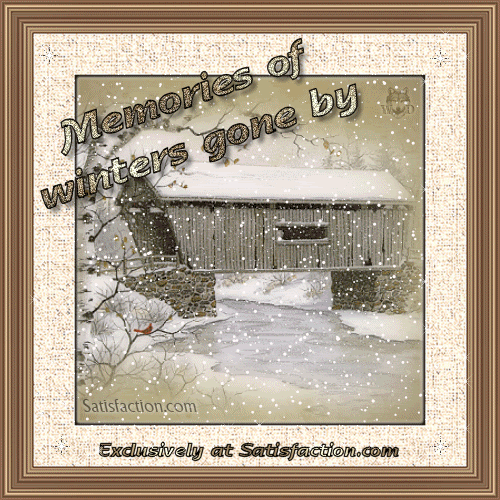 "Winter is the time for comfort, for good food and warmth,
for the touch of a friendly hand and for a talk beside the fire:
it is the time for home."
-  Edith Sitwell
FEBRUARY – SNOW MOON
February is the second month of the Gregorian calendar, and the year's shortest month. It is named for Februa, an ancient purification festival, and its astrological sign is Aquarius, the water-bearer(January 20 – February 18), a fixed air sign ruled by Uranus. In February, Mother Earth begins to stir; daylight lasts a little longer, and the first crocuses begin to peek through the snow. The major holiday of the month, Imbolc or Candlemas, celebrates the strengthening Sun. This is a day of purification and banishment; candles are lit and Yuletide greenery is burned in a ritual fire to illuminate the waning darkness of winter. Corn dollies, called Corn Maidens, are dressed in scraps of white lace and ribbons. The maiden is placed in a basket, called the Bride's bed, with a small ribbon-entwined wand representing the God. Romance is celebrated on Valentine's Day, February 14. Magical activities include love divination of all types, and, of course, treating your romantic partner to chocolates is a common custom. Long ago, February's Full Moon was called the Snow Moon, and the month is still known for powerful snow storms. Still, nature begins to sense the turning of the year. House finches begin looking for nesting sites, and in the still-frozen woodland foxes begin searching for a mate.
The Snow Moon
Snow moon or Full Snow moon is a traditional name for the full moon that occurs in February in North America. Usually this month is a time for snow and cold air temperatures, and this is the reason for the name snow moon. Storm moon, hunger moon, Little Famine moon, and Full Bony moon are other traditional names for this particular full moon.
This moon represents the full potential in all things, like snow waiting for the spring thaw. It is a time of divine or royal purpose, a time of telling stories and storing resources for the months ahead. The Second Esbat signals a time of intensified rapport with the God and Goddess. This moon also honors the sovereignty of the land, which is an embodiment of the Goddess.
Snow Moon Folklore
According to the old English saying:
If Candlemas be fair and bright,
Winter has another flight.
If Candlemas brings clouds and rain,
Winter will not come again.
From Scotland:
If Candlemas Day is bright and clear,
There'll be two winters in the year.
From Germany:
For as the sun shines on Candlemas Day,
So far will the snow swirl until May.
For as the snow blows on Candlemas Day,
So far will the sun shine before May.
And from America:
If the sun shines on Groundhog Day;
Half the fuel and half the hay.
Folklore from Stormfax Weather Almanac
CORRESPONDENCES FOR FEBRUARY
NATURE SPIRITS: house faeries, both of home and plants in the home
HERBS: Balm of Gilead, hyssop, myrrh, sage, spikenard.
COLORS: light blue and violet
FLOWER: Primrose
SCENTS: wisteria, heliotrope
STONES: amethyst, jasper, rock crystal
TREES: rowan, laurel, cedar
ANIMALS: Otter and the Unicorn
BIRDS: Eagle and the chickadee
DEITIES: Brigit, Juno, Kuan Yin, Diana, Demeter, Persephone, Aphrodite.
POWER/ADVICE: Energy is working towards the surface, purification, healing and growth. Accept and forgive yourself for past errors, time to learn to love yourself and to make future plans.
Symbols for the Month of February
February's Sign of the Zodiac
Aquarius: January 20 – February 18
Pisces: February 19 – March 20
February's Birthstone
Amethyst
February's Birth Flower
February's birth flower is the violet and primrose.
Violet signifies watchfulness, loyalty, and faithfulness. Give a violet to someone to let them know you'll always be there for them. Primrose lets someone know you can't live without them.
Characteristics of Those Born Under The Sign of Aquarius
January 20 – February 18
Those born under the Aquarius sign are generally erratic. Their behavior and temperament are so unpredictable that it is impossible to define their personality type. However, they usually make wonderful first impressions. At first sight, an Aquarius will come across as a most charming and well-mannered person. People find them very interesting company as they are active and adventurous by nature.
Characteristics of Those Born Under The Sign of Pisces
February 19 – March 20
Gifted with a wild imagination, Pisceses have an unrivaled talent for story telling or anything artistic for that matter. They also have a great capacity for love and the depth with which they feel sometimes makes them extremely sensitive. So be very careful when relating to a loved one born under the Pisces zodiac sign as a harmless remark can prove to be incredibly hurtful to them.
February's Month Long Observations
African American History Month (Black History Month)
AMD/Low Vision Awareness Month
American Hearth Month
American History Month
Bake For Family Fun Month
Bird Feeding Month (US National) (Wild Bird Feeding Month)
Candy Month
Canned Foods Month
Cat Health Month (US National)
Cherry Month
Children's Dental Health Month (National)
Chocolate Month
Condom Month (National US)
Creative Romance Month
Dental Month
Friendship Month
Grapefruit Month
Hearth Month (American)
Library Lovers Month
Pet Oral Health Care Month (US National)
Potato Lovers Month
Responsible Pet Owner Month
Sinus Pain Awareness Month
Snack Food Month (US National)
Umbrella Month
Weddings Month (US National)
Wild Bird Feeding Month
Wise Health Consumer Month
Imbolc
Imbolc (pronounced i-MOLK ir i-MOLG) is also called Brighid's Day. It is a Gaelic festival that is held about halfway between the winter solstice and spring equinox and marks the beginning of spring. As with all Old Tradition observances, this holiday is usually celebrated beginning at sundown on February 1 and continuing through the day of February 2. Imbolc means in the belly of the Mother because that is where seeds are beginning to stir as it is spring.
It was originally a Pagan festival associated with the goddess Brighid. This was later Christianized as a festival of Saint Brighid. Brighid was said to visit one's home at Imbolc. To receive her blessings, people would make a bed for her and leave food and drink out. Items of clothing would be left outside for her to bless. She was also invoked to protect homes and livestock.
Another name for this holiday is Oimelc, meaning milk of ewes since it is also the traditional lambing season in the old world. Herd animals have either given birth to the first offspring of the year or
their wombs are swollen and the milk of life is flowing into their teats and udders.
It is the time of Blessing of the seeds and consecration of agricultural tools. It marks the center point of the dark half of the year. This holiday is especially sacred to the Celtic Fire Goddess , Brigit, patron of smithcraft, healing, midwifery, and poetry. It is the festival of the Maiden, for from this day to March 21st, it is her season to prepare for growth and renewal.
Imbolc Correspondences
Symbolism of Imbolc:
Purity, Growth and Renewal, the Reunion of the Goddess and the God, Fertility and dispensing of the old to make way for the new
Symbols of Imbolc:
Brideo'gas, Besoms, White Flowers, Candle Wheels, Brighid's Crosses, Priapic Wands (acorn-tipped), and Ploughs
Herbs of Imbolc:
Angelica, Basil, Bay Laurel, Blackberry, Coltsfoot, Heather, Iris, Myrrh, Tansy, Violets, and all white
Incense of Imbolc:
Basil, Bay, Wisteria, Cinnamon, Violet, Vanilla, Myrrh.
Colors of Imbolc:
White, Pink, Red, Yellow, lt. Green, Brown
Stones of Imbolc:
Amethyst, Bloodstone, Garnet, Ruby, Onyx, Turquoise
Imbolc Activities
Candle Lighting (light Candles or turn on lights in each room of the house right after sunset for a few minutes to honor the Sun's rebirth), Stone Gatherings, Snow Hiking and Searching for Signs of Spring, Making of Brideo'gas and Bride's Beds, Making Priapic Wands, Decorating Ploughs, Feasting, and Bon Fires may be lit.
Doll figures of the Goddess Brighid, called a Brideo'gas (corn dollies) can be made at Imbolc. Brighid's Crosses are another good project. They can be made from wheat stalks and are symbols of protection and prosperity in the coming year.
Home hearth fires are put out and re-lit, and a besom (broom made from twigs ) is place by the front door to symbolize sweeping out the old and welcoming the new. The re-birth of the Sun is honored by lighting Candles in your home.
Below are instructions for making your own Brighid doll:
Brideo'gas (corn dolly)
A corn dolly would usually be made with wheat straw from the harvest. Below are directions for making a simple corn dolly.
Materials: Wheat straw, hollow straws, or raffia, some yarn or string and a small amount of cloth.
Directions for a natural corn dolly: If you're using real wheat straw, it should be soaked for a couple of hours before you try to bend it. If you don't have access to the real thing, the best craft material to use is raffia. It is easily found at most craft stores and resembles flattened straw.
Take about fifteen to twenty-five strands and cut it to about a foot and a half long. This will be the main body of the dolly. Fold it over in half. Where the stalks are folded is the top of your dolly's head. Take the string or yarn and tie it around the entire bundle about an inch and a half down from the top. This marks her neck.
Before you tie off her body, you'll need to make arms. Take four to six stalks and fold them over . Tie off at each end and cut the looped end so it is frayed like the other side. The frays represent her hands. Stick the arm bundle into the main bundle right under the neck, and then tie off the main bundle under the arms.
At this point the bottom of the main bundle is frayed and splayed out a bit like a skirt. This is the simplest form of corn dolly, and it can now be considered finished if all you need is a very basic doll for your purpose.
—Wiccan & Pagan Holidays: An Easy Beginner's Guide to Celebrating Sabbats and Esbats (Living Wicca Today Book 1)
Kardia Zoe
Smooring the Fire – A Prayer to Brighid
An Tri numh (The sacred Three)
A chumhnadh, (To save,)
A chomhnadh, (To shield,)
A chomraig (To surround)
An tula, (the hearth)
An taighe, (The house,)
An teaghlaich, (The household,)
An oidhche, (This eve,)
An nochd, (This night,)
O! an oidhche, (Oh! this eve,)
An nochd, (This night,)
Agus gach oidhche, (And every night,)
Gach aon oidhche. (Each single night.)
Amen.
—-Author: Patti Wigington, Paganism/Wicca Expert
Article Found On & Owned By About.com

Groundhog Day
Groundhog Day (Canadian French: Pennsylvania German: Grundsaudaag, Murmeltiertag) is a day celebrated on February 2. According to folklore, if it is cloudy when a groundhog emerges from its burrow on this day, then spring will come early; if it is sunny, the groundhog will supposedly see its shadow and retreat back into its burrow, and the winter weather will persist for six more weeks.
Modern customs of the holiday involve celebrations where early morning festivals are held to watch the groundhog emerging from its burrow.
In southeastern Pennsylvania, Groundhog Lodges (Grundsow Lodges) celebrate the holiday with fersommlinge, social events in which food is served, speeches are made, and one or more g'spiel (plays or skits) are performed for entertainment. The Pennsylvania German dialect is the only language spoken at the event, and those who speak English pay a penalty, usually in the form of a nickel, dime, or quarter per word spoken, with the money put into a bowl in the center of the table.
The largest Groundhog Day celebration is held in Punxsutawney, Pennsylvania, with Punxsutawney Phil. Groundhog Day, already a widely recognized and popular tradition, received widespread attention as a result of the 1993 film Groundhog Day.
History
The celebration, which began as a Pennsylvania German custom in southeastern and central Pennsylvania in the 18th and 19th centuries, has its origins in ancient European weather lore, wherein a badger or sacred bear is the prognosticator as opposed to a groundhog. It also bears similarities to the Pagan festival of Imbolc (the seasonal turning point of the Celtic calendar, which is celebrated on February 1 and also involves weather prognostication) and to St. Swithun's Day in July 15.
Locations
The largest Groundhog Day celebration is held in Punxsutawney, Pennsylvania, where crowds as large as 40,000 have gathered to celebrate the holiday since at least 1886. Other celebrations of note in Pennsylvania take place in Quarryville in Lancaster County, the Anthracite Region of Schuylkill County, the Sinnamahoning Valley and Bucks County.
The day is observed with various ceremonies at other communities in North America, including in Wiarton, Ontario, at the Shubenacadie Wildlife Park in Nova Scotia, and at the University of Dallas in Irving, Texas (which has what is claimed to be the second largest Groundhog celebration in the world).
According to Groundhog Day organizers, the rodents' forecasts are accurate 75% to 90% of the time.
—Wikipedia
The Free Encyclopedia

St Valentines Day
Valentine's Day – the popular festival of love and romances traces its origin to ancient Roman festival and has not been created by card companies as some people believe it to be. There are various legends associated with the festival along with the belief that birds began to mate from this day. Popularity of the Valentine's Day festival stems from the combined effects of all these legends, beliefs and of course the wish to glorify the unparalleled feeling of love.
Feast of Lupercalia
Historians trace the origin of Valentine's Day to ancient Roman Empire. It is said that in the Rome of ancient times people observed a holiday on February 14th to honor Juno – the Queen of Roman Gods and Goddesses. The Romans also regarded Juno as the Goddess of Women and Marriage. On the following day, February 15th began the fertility festival called 'Feast of Lupercalia'. The festival of Lupercalia was celebrated to honor the Gods Lupercus and Faunus – the Roman God of Agriculture besides the legendary founders of Rome, Romulus and Remus.
An interesting custom was followed in the Feast of Lupercalia to bring together young boys and girls who otherwise were strictly separated. On the eve of the festival names of young Roman girls were written on a slip of paper and placed into jars. Each young man drew out a girl's name from the jar and was paired with the girl for the duration of Lupercalia. Sometime pairing lasted for a year until next year's celebration. Quite often, the couple would fall in love with each other and later marry. The custom lasted for a long time until people felt that the custom was un-Christian and that mates should be chosen by sight, not luck.
Defiance by Saint Valentine
The pairing of young boys and girls did set the mood of the Valentine's Day Festival as we know today. But it was actually due to the efforts and daring of a priest St Valentine that the festival got its name and clearer meaning. The story goes that during the reign of Emperor Claudius II Rome was involved in several bloody and unpopular campaigns. Claudius found it tough to get soldiers and felt the reason was men did not join army because they did not wish to leave their wives and families. As a result Claudius cancelled all marriages and engagements in Rome. A romantic at heart priest of Rome Saint Valentine defied Claudius's unjustified order. Along with Saint Marius, St Valentine secretly married couples. When his defiance was discovered, Valentine was brutally beaten and put to death on February 14, about 270 AD. After his death Valentine was named a Saint.
According to another version of legend Valentine was killed because he attempted to help Christians escape from the Roman prison as they were being tortured and beaten there. Yet another popular version of the legend states that while in prison Valentine or Valentinus fell in love with jailer's daughter who visited him during confinement. Before his death Valentine wrote a farewell letter to his sweetheart from the jail and signed 'From your Valentine'. The expression became quite popular amongst love struck and is still very much in vogue.
By the Middle Ages, Valentine assumed the image of heroic and romantic figure amongst the masses in England and France. Later, when Christianity spread through Rome, the priests moved Lupercalia from February 15 to February 14. Around 498 AD, Pope Gelasius declared February 14 as St. Valentine's Day to honor the martyr Valentinus and to end the pagan celebration.
Beginning of Birds Mating Season
During the Middle Ages, people in England and France held a belief that birds started to look for their mate from February 14. This popular notion further helped to link Valentine's Day – celebrated in the middle of the February, with love and romance. Over the period of time, St Valentine became the patron saint of lovers and they began to celebrate Valentine's Day as a day of romance by exchanging love notes and simple gifts such as flower.
Popularity of St Valentines Day
Valentine's Day festival gradually grew in popularity amongst the masses due to the combined effect of all the above said reasons. To mark the day lovers began to exchange love notes called 'Valentines' with their sweethearts. In the beginning the trend was to send handmade cards but this was changed in the beginning of 19th century and mass-produced greeting cards caught the fancy of the people. In the course of time, Valentine's day came to be regarded as the festival that celebrates love and not just romantic love. Today, Valentine's Day cards are gifted to teachers, parents, friends, siblings and sweethearts. Popularity of Valentine's Day has spread in countries across the seven continents and is still increasing by the year.
The Infamous Love Potion #9
(Don't direct it or it's your karma)
Materials Needed:
9 oz. sweet red wine
9 basil leaves
9 red rose petals
9 cloves
9 apple seeds
9 drops vanilla extract
9 drops strawberry juice
1 ginseng root, cut into 9 equal pieces
By the light of 9 pink votive candles, put these nine ingredients into a cauldron on the 9th hour of the 9th day of the 9th month of they year. Stir the potion 9 times with a wooden spoon, each time recite the following magickal incantation:
Let the one who drinks this wine
Shower me with love divine
Sweet Love Potion Number Nine
Make his/her love forever mine
Bring the mixture to a boil, then reduce the heat and let it simmer for 9 minutes. Remove from heat and allow to cool. Blow 9 times upon the potion, bless it in the names of nine goddesses. Strain through cheesecloth (or coffee filter–it is the 90's thank you). Store in a clean container and refrigerate until you are ready to serve it to the one from whom you desire love and affection.
Do not allow anyone other than your beloved look at, touch or drink the love potion.
*WARNING: extremely potent and should be used with caution. It's results can be very intense, long-lasting and difficult to control or reverse.*
(Don't direct it or it's your karma)
Banner Exchange
If you would like to exchange banners, you can either drop us off a link in the comment section or email us at: thewotcstrustfund@yahoo.com Thank You!