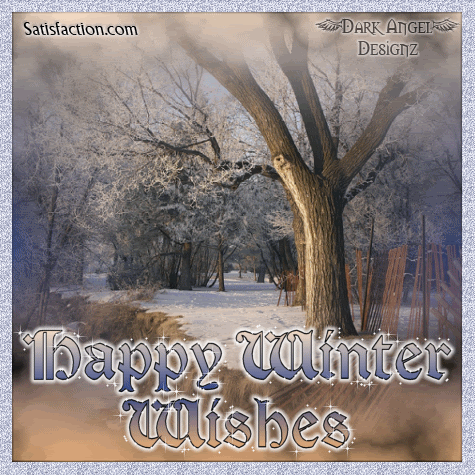 "Should auld acquaintance be forgot
and never brought to mind?
Should auld acquaintance be forgot
and days of auld lang syne?
For auld lang syne, my dear,
for auld lang syne,
we'll take a cup of kindness yet,
for auld lang syne."
-  Robert Burns, Auld Lang Syne
January – Wolf Moon
January is the first month of the Gregorian calendar. Its name comes from the two-faced Roman God Janus, ruler of gates and doorways. Its astrological sign Capricorn, the goat (December 21- January 20), is a cardinal earth sign ruled by Saturn. January is a time of new beginnings. New Year's Day brings with it the tradition of making resolutions for the new year. Popular customs include opening the front and back door of the home, a symbolic way of letting the new year in and the old year out. Epiphany or Twelfth Night, falls on January 6 and is the final night of the Christmas season. This night is a time to gather family and friends near a crackling fire, enjoying food and sweets and sharing hopes and wishes for the coming year. January's Full Moon was known as the Wolf Moon, a time when the hungry pack would search for food. In many regions, snow blankets the ground, icicles hang from the eaves, and the night sky is spangled with starlight. Evergreen trees, symbols of eternal life, stand out now in the winter woodland. Blue jays and cardinals brighten the winter landscape. Traditionally during this month, Pagans perform purification magic, using seasonal scent such as pine and ginger. The ritual burning of written charms so that their magic may be released is also popular in January.
The Wolf Moon
The First Esbat or Full Moon after Yule is the Wolf Moon. A time of unity, purity, and dormancy, it represents the primal nature of the Goddess being reborn into a new cycle of light. The light of the solar cycle is increasing, and nights are gradually becoming warmer and shorter all the way to the Summer Solstice.
Wolf Moon Folklore
A bright first Moon promises rain and a bountiful harvest; a red-tinted Moon means a dry year.
A growing Moon and a flowing tide are lucky times to marry.
A halo around the Moon predicts wet or stormy weather.
CORRESPONDENCES FOR JANUARY
NATURE SPIRITS : gnomes and brownies
HERBS: marjoram, holy thistle, nuts and cones
COLORS: white, blue-violet and black
FLOWERS: snowdrop, crocus
SCENTS: musk and mimosa
STONES: garnet, onyx, jet, and chrysoprase
TREES: Birch
ANIMALS: Fox and Coyote
BIRDS: pheasant and the bluejay
DEITIES: Freya, Inanna, Sarasvati, Hera, CH'ang-O, Sinn
POWER AREAS: Sluggish, below the surface, beginning and conceiving, protection, reversing spells, Conserve energy by working on your own personal problems that involve no one else. Time to work on new goals
Symbols for the Month of January
January's Sign of the Zodiac
Capricorn:  December 22 – January 19
Aquarius: January 20 – February 18
January Birthstone
Garnet
(represents constancy)
January Birth Flower
January's Birth Flower is the Galanthus
Characteristics of Capricorn
Self-disciplined, serious, determined, mature and able to persevere in the face of adversity.
January's Month Long Observations
National Thank You month
New Year's Day – January 1
Independence Day in Haiti – January 1
Handsel Monday in Scotland and northern England – First Monday
Three Wise Men Day, or Epiphany, in Latin America, Spain, Puerto Rico and Dominican Republic, and is, although not celebrated as widely or in the same way as in countries with a Spanish history, an official holiday in many European countries, for example Austria, Italy, Sweden, Finland, Liechtenstein, Slovakia and Croatia, as well as in parts of Germany and Switzerland.  – January 6
Russian and Ukrainian Christmas Eve, also known as Svyat Vechir – January 6
Plough Sunday in Scotland and northern England – Sunday after January 6
Coptic and Russian Orthodox Church Christmas – January 7
Coming of Age Day (成人の日 Seijin no hi?) in Japan – Second Monday
National Human Trafficking Awareness Day in the United States – January 11
Makara Sankranthi (Festival of Harvest) in India – January 14
Third Sunday is Pongal in India and Feast of the Santo Niño in the Philippines
Chinese New Year – between January 21 to February 20
Martin Luther King, Jr. Day in the United States – Third Monday
The uniting of Moldavia and Wallachia under the same ruler in 1859, Romania – January 24
Burns night in Scotland – January 25
Republic Day in India – January 26
Australia Day in Australia – January 26
Auckland Anniversary in Auckland, New Zealand – Monday closest to January 29
New Year's Eve and New Year's Day Steeped In Household Magick
New Year's Eve and New Year's Day are other times steeped in household magic, most of which ensures that the home and it residents will have a safe, comfortable, plentiful year.
There are many traditional New Year's Eve rituals. Burning seven candles on this night bring household luck. If you want more than luck, light a candle on each side of a mirror five minutes before midnight on New Year's Eve. Then look into the glass, and you'll see a vision.
A few minutes before midnight on the eve of the New Year, open the doors and windows for a few minutes to release any negative vibrations from last year.
New Year's Eve is also an excellent time to increase your beauty. At midnight, wash your face in well water, look into a mirror by candlelight, and you will improve your appearance.
If you have a fireplace, you might want to try this spell. To be rid of last year's banes and pains, bind your now-obsolete calendar with wool yarn. Place it in a hot fire while chanting:
Burn, burn, you day-book burn;
Last year's worries ne'er return!
The preceding rituals are simple to follow, but some are more complex. At one time in Scotland, each resident of the household washed his or her entire body in water into which three live embers from the household fire had been place. Next, clean clothing was donned, the house thoroughly scrubbed, every lock opened and a shiny knife left near the front door. A light burning in the window all night topped off the ritual.
On New Year's Day itself, there is much to do in the way of good-luck rituals. First off, ensure that your pockets and cupboards are full on this day; that way, you'll have money all year. If you have greens in the house on New Year's Day you have plenty of "green" cash during the following 12 months.
Juniper incense—or dried, crumbled juniper burned on charcoal blocks—ritually cleanses the home and is highly traditional. Grass and water can also be brought into the home to ensure plenty of food and drink.
Burning bayberry candles is a pleasantly scented custom. An old poem goes:
Bayberry candles, when burned to the socket,
Bring luck to the home and gold to the pocket.
Since you must let them burn down all the way, choose small tapers and place them in fireproof holders.
On New Year's Day, not before, it is permissible to hang up new calendars and almanacs.
—-The Magical Household: Spells & Rituals for the Home
Scott Cunningham;David Harrington.
A New Year's Blessing for Your Home
At dawn, rise and light some incense. Walk slowly through the quiet house and say the following words while visualizing their meaning and intent:
House of stone,
metal,
wood and earth;
silent one,
protective one,
you of the four winds;
house of health, wealth,
joy and peace;
guardian,
sustainer,
you of the Earth;
house of stone,
metal,
wood and earth,
secure one, peaceful one,
you of the charm:
guarded and protected you be,
cleansed and pure you be,
peaceful and loving you be.
It is finished in beauty.
It is finished in beauty,
it is finished in beauty.
Set down the incense and draw as exact a likeness of your house as you can from your imagination. Draw it from all angles: from above, from the front, from behind. If you live in an apartment, draw the building as well.
When finished, go outside and check your drawing. Is it as accurate as you can make it? If not, draw a new one or make changes until the drawing satisfies you. No great skill is required; you need only make a recognizable likeness of your home.
When finished, take a white candle and a sharp knife. Cut seven evenly spaced notches in the candle so that you create a knob bed candle. Now set the drawing down on a table where it can remain for seven days. Set the candle on top of it and light it while visualizing your home as blessed, safe and loving.
Let the candle burn down one notch the first day as you go about your early morning business, then pinch or snuff out the flame and leave it until the next day. The next morning, repeat the ritual-from lighting the incense and saying the blessing chant to burning one candle notch.
On the seventh day, after the candle has burned down all the way, fold the drawing into a tight package and secure it with red or white cord. Place it in a wooden box with salt and dried roses and tie the box firmly shut with another white cord. Finally, place the box in the home where it won't be seen or found.
—The Magical Household: Spells & Rituals for the Home
Scott Cunningham;David Harrington.
Prayer For Strength and Wisdom In The New Year
Grant me the strength from day to day
To bear what burdens come my way.
Grant me throughout this bright New Year
More to endure and less to fear.
Help me live that I may be
From spite and petty malice free.
Let me not bitterly complain
When cherished hopes of mine prove vain,
Or spoil with deeds of hate and rage
Some fair tomorrow's spotless page.
Almighty Lord & Lady, as the days shall come and go
In courage let me stronger grow.
Lord & Lady, as the New Year dawns today
Help me to put my faults away.
Let me be big in little things;
Grant me the joy which friendship brings.
Keep me from selfishness and spite;
Let me be wise in what is right.
A happy New Year! Grant that I
May bring no tear to any eye.
When this New Year in time shall end
Let it be said I've played the friend,
Have lived and loved and labored here,
And made of it a happy year.
–Edgar A. Guest
GodWeb.com
Banner Exchange
If you would like to exchange banners, you can either drop us off a link in the comment section or email us at: thewotcstrustfund@yahoo.com Thank You!